Coinshare report shows the mounting interest of institutional investors in Solana.
The CoinShares report points that there was a $150 million inflow into the crypto market in the last week. Bitcoin received around US$114 million in investments, followed by Ethereum with US$12.6 million and other miscellaneous assets with a total of US$14.1 million.
Even crypto market is in the phase of correction, investors continue to increase exposure in different cryptocurrencies, with Solana gaining prominent inflows from institutional investors. Coinshares report shows that Bitcoin and Ethereum continue to gain traction but Solana (SOL) has grown considerably over the same period.
This also demonstrates a continuation of the investment inflow trend from Institutional Investors to bet on the crypto market, even if the market is on the edge of correction.
Coinshare Writes:
"Digital asset investment products saw inflows totaling US$154m last week, with the most recent price correction, where Bitcoin prices fell by 12% over the week, seemingly not impacting the positive investor sentiment."
Solana
But it's not just the BTC and ETH that investors are favoring the most, Solana is definitely standing out of competition.
Data show that Solana during the last month, more specifically the last 4 weeks, has attracted a lot of attention from the institutional sector, with $43 million invested in the SOL cryptocurrency during this period.
This places the SOL above competitors such as Polkadot and Cardano.
Coinshares writes:
"Inflows into world computer assets suggest that investors favor Solana. By measure of total inflows over the last month, Solana has seen inflows totaling US$43m over the last month versus Cardano at US$23m."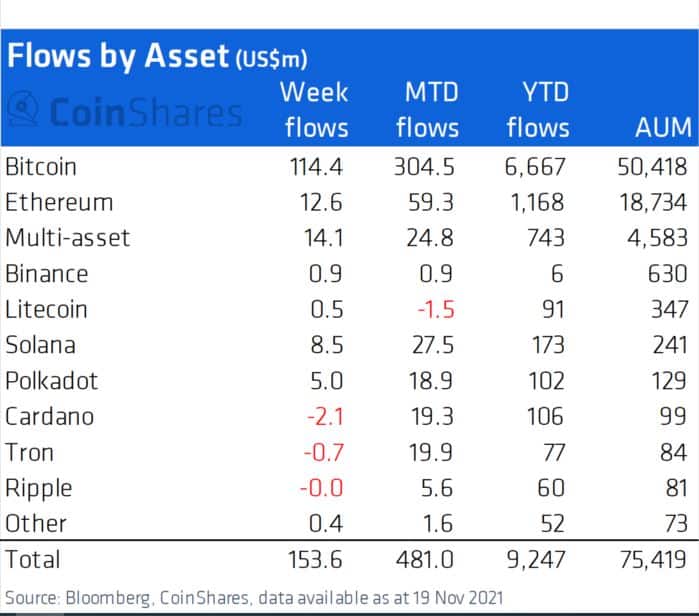 Growing Institutional investment interest in Solana can have many reasons, but the most prominent reason is the unstoppable trend of Metaverse, where plenty of Metaverse projects are coming on SOL.
Read More Solana News: