- Advertisement -

In 2021 Financial institutions like Hedge funds, Banks, Financial Institutions, and companies like Microstrategy entered the crypto market in abundance.

Data show that Polkadot (DOT) was the favorite investment choice of institutional investors in 2021, beating all other altcoins in the Defi sector.
Messari, a blockchain analytics firm report shows that 21 of the world's 53 top fund managers invested in Polkadot (DOT) last year. That makes DOT stand out from the competition. Following DOT institutions also invested heavily in NEAR and LUNA.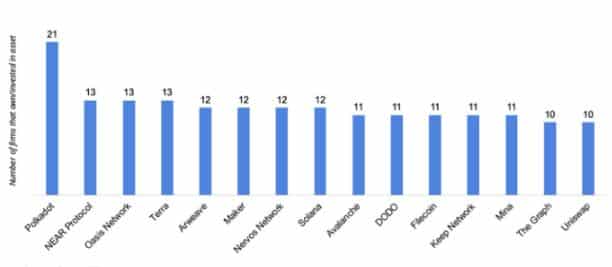 The main reason behind DOT success is the use of Parachains. This makes the network support multiple layer-1 blockchains running parallel with its central chain. Such a unique concept lays high importance on cross-chain interoperability, which many experts believe will define the crypto future.
Polkadot can also counter transactional congestion issues faced by networks like Ethereum. ETH gas fees are still high at around $45 on average despite network upgrades like (EIP) 1559 and London hard fork that promised a decline in fees. Polkadot can perform 170 transactions per second(TPS) while ETH, because of the delay of ETH 2.0, is performing roundabout 30 TPS.
In 2021 Weiss published a rating that Showed Cardano, and Polkadot technologies were superior to Ethereum.