- Advertisement -

Whales are suddenly showing some keen interest in buying SHIB.

1000 biggest ETH wallets started taking an interest in the Shiba Inu token once again, and Shib became one of the top 10 purchased tokens, according to Whalestats data.
"SHIB is back on top 10 purchased tokens by 1000 biggest ETH wallets.
JUST IN: $SHIB is back on top 10 purchased tokens by 1000 biggest ETH wallets 🔥🔥

📈 #SHIB price ups 14.3% in the past 24hrs with a current price of $0.00003193

The King is back #ShibArmy 🚀🚀

Whale leaderboard: https://t.co/28TDZ6JFiD pic.twitter.com/zvl2IHSL8x

— WhaleStats – the top 1000 Ethereum richlist (@WhaleStats) January 13, 2022
As reported by TheCryptoBasic today, Jan 13th world's third-biggest ETH Whale' Light' bought 58,900,000,000 Shiba Inu tokens For $1.9M, making SHIB her largest holding. Shiba surged more than 20% in the last 24 hours as a far-right libertarian financial blog, "ZeroHedge" reported that Robinhood could list SHIB in early February.
According to Whales stats, SHIB also had come back to be the biggest token position by dollar value among the top 1000 ETH whale wallets. According to data the top 1000 ETH wallets holds on average $1,679,762,356 ($1.67B) worth of Shib coins that represent 15% of their total holding positions in dollar terms (excluding ETH) leaving behind FTX coin.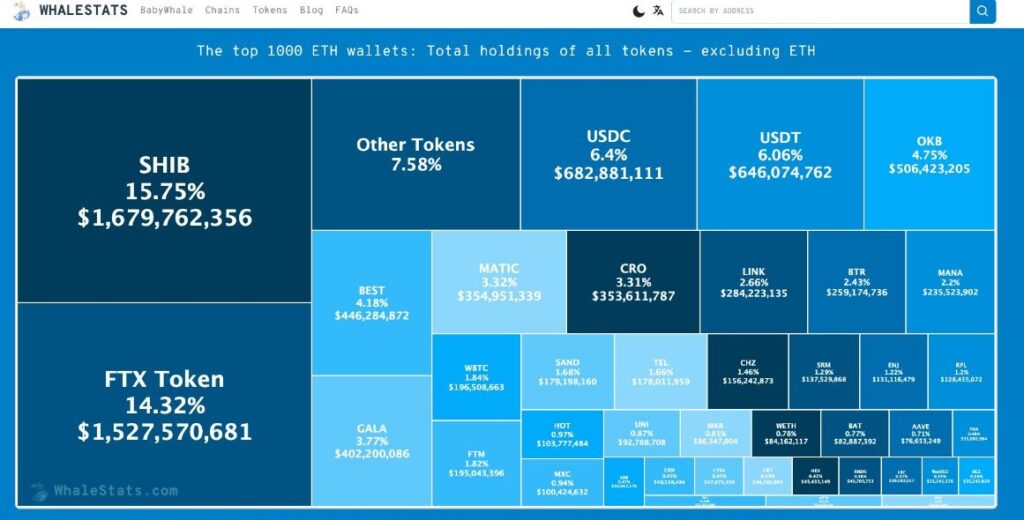 ZeroHedge's official Twitter handle has more than 1 million followers and is one of the popular news aggregator sources. Therefore, this report got significant attention, and rumors about the Robinhood listing were revived.
These reports are considered rumors only until and unless we get any official announcement from the Robinhood team. The exchange herself can only verify the news about listing on the exchange. Usually, the exchanges don't disclose any details until shortly before launch – not even which assets they are planning to list next, as this goes against their policies and international laws of market manipulations.
Whatever, SHIB is set back on the ride for the Moon following these rumors. In trading, all professional traders have one common strategy, i.e., "Buy the Rumor, Sell the News," and the same is happening with the SHIB token right now.
Due to the interest of Whales' in the token, Shiba Inu has been the top gainer among the top 50 cryptocurrencies in the last 24 hours according to Coinmarketcap.