A Decentralized Autonomous Organization (DAO) called AssangeDAO is raising funds to free WikiLeaks founder Julian Assange. A big enough goal is to free WikiLeaks founder Julian Assange, a controversial figure wanted for information leaks in a US government scandal who was locked up in London nearly seven years after taking refuge in the Ecuadorian Embassy there. On December 10 last year, the British High Court issued a judgment to extradite him to the United States of America. On the day of the sentence, AssangeDAO, named after Assange, was established, aimed to raise ETH to buy 1/1 dynamic NFT made by digital artist Pak in collaboration with Assange. AssangeDAO raised over 16,593 ETH, about $52.26M in just one week.
How do DAOs function?
DAOs are the ultimate form of decentralized investments, pooling in capital from interested users who are keen on backing the blockchain projects, funding them and sometimes, even going an extra mile by managing the promising startups. DAOs can have different structures, rules and governance, all based on their respective communities and goals. They leverage on the power of smart contracts to enforce rules and assign voting power to participating members for governance purposes.
A DAO cannot be perfect and all-encompassing, and each DAO has its own positioning. Therefore, DAO has to accurately grasp the driving force behind the community and to anchor its own mission and vision in order to better build the community.
How can I participate in DAOs?
Pay attention to DAO as soon as it rises, understand its mission and vision, observe its popularity, and find ways to contribute.
Many DAOs have grown extremely rapidly, with a steady stream of new members, projects, architectures, and tools. Thoroughly combine this information and process will help new members find their place in the community and understand how to participate and contribute.
What other DAOs deserve the attention of ordinary investors?
Point 1:
The community culture is important to DAOs because in the absence of traditional leadership structures, the community culture would be the most enduring and pervasive force.
Based on this focus, we have discovered a DAO that stands out from the crowd – FreedomDAO, an organization dedicated to realizing the freedom of retail investors' wealth. The mission of Freedom Of Wealth DAO is to become a decentralized project that truly belongs to everyone, bringing opportunities for any crypto user or ordinary participants to true wealth freedom.
It's so different! Think about it, if you would choose to fight for others (AssangeDAO). Why not choose to fight for your own financial freedom? (FreedomDAO)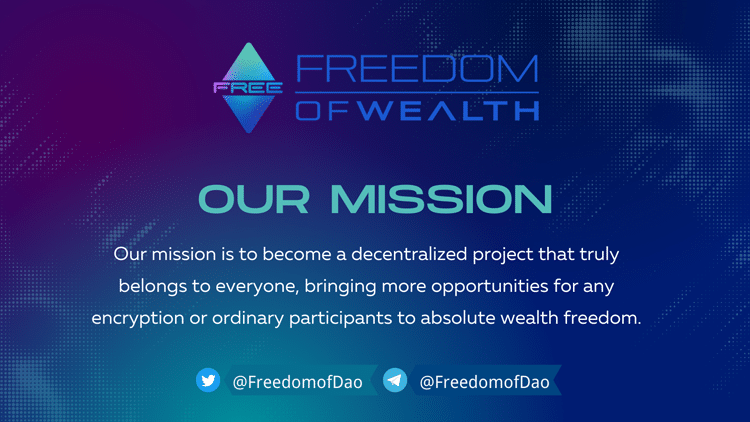 Point 2:
It is critical to be cautious in choosing the right assets and to have reasonable parameters for them.
Freedom Of Wealth DAO aims to create a 100% decentralized community experiment and no project parties or teams can control this project, and the initial token issuance is carried out by donation. Groundbreaking proposed IDO (initial donate offering), and the concept of Donate to Earn. The early token issuance is completely issued by user donations, without any project party or share offerings to any team, all donations are used for user redemption, increasing the liquidity and project developments.
Let's take a look at the tokenomics of FreedomDAO
Token Name: $FREE
Token Issuance: The supply of FREE will be determined by the total value of donated dollars. Therefore no one knows what the final issuance amount of FREE will be, and the total amount of it is entirely up to the community. All FOWD will be minted to the donor. No developer allocation, no funding, no allocation to any project party or insider. The ratio of donation to project issuance is 1:100, that is, for every 1 USDT donated by the user, 100 FREE will be issued (if the user donates other currencies, the issuance of FOWD will be converted into USDT-denominated issuance).
If the total donation amount of the community is 100 million US dollars, then the final issuance of FREE will be 10 billion.
After the end of the donation, the user's donation amount x 100 is the final issuance of FOWD, and it will be locked forever and will never be reissued.
Point 3:
Learn how to compare advantages
Let's compare the situations between AssangeDAO and FreedomDAO.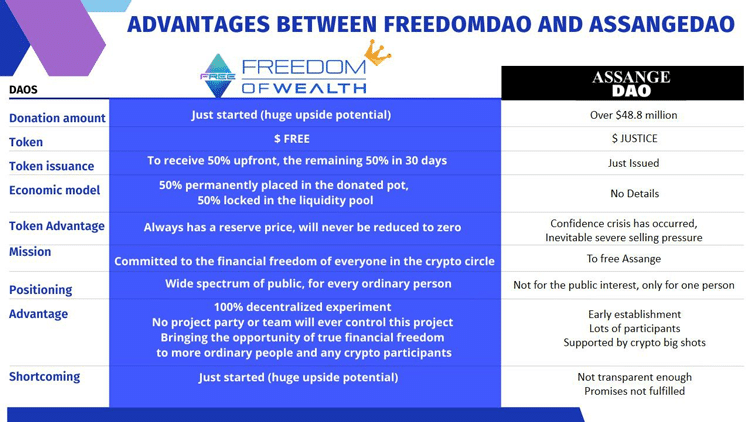 In this chart we can clearly see the various advantages of FreedomDAO compared to AssangeDAO, such as token advantage: The Contributor of FreedomDAO will receive 50% upfront, the remaining 50% in 30 days And 50% of $FREE permanently placed in the donated pot, 50% locked in the liquidity pool. $FREE always has a reserve price, which will never be reduced to zero, but the $JUSTIC confidence crisis has occurred, inevitably severe selling pressure.
We expect that FreedomDAO will create new surprises for DAOs supporters, and we believe that the DAOs craze will continue.
FreedomDAO is now officially open for donations on www.freedomdao.app, if you haven't jumped on the DAO train yet, you may consider adding it to your viewing schedule!
Learn more about Freedom of Wealth:
Website – https://www.freedomdao.app
Twitter – https://twitter.com/Freedomofdao
Telegram- https://t.me/FreedomofDaoEnglish