Waves is showing resistance to the falling crypto market.

While the broad crypto market is facing a downtrend these days, the cryptocurrency Waves (WAVES) is withstanding the trend and growing. Within the last 24 hours, the Waves Coin has gained more than 15 percent and 150% in the last ten days.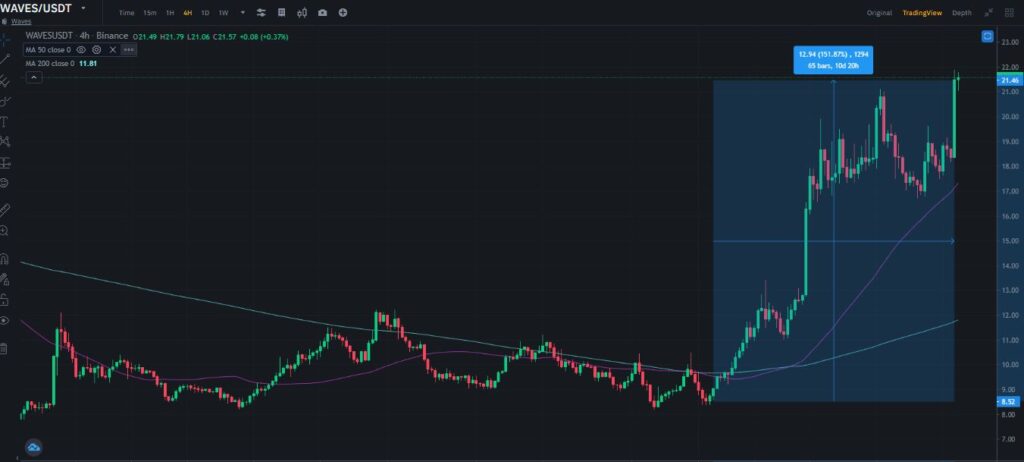 Waves had already shown a strong performance in the last week and was able to take the lead among the top 100 cryptocurrencies. The coin strength in the past few days is without question remarkable.
A significant reason for the relatively strong price performance is waves updated Roadmap. In the updates, Waves developers announced a concrete plan of transition to Waves 2.0 by switching to a Practical Proof-of-Stake Sharding (PPOSS) model that will make it possible to increase transaction speeds significantly. Waves also plan to make the platform more attractive and compatible with the Ethereum Virtual Machine (EVM).
In the upgrade plan, Waves goes into detail about introducing a DAO framework and the planned cross-chain bridges.
Key Points Of Waves Transforming (1 ➝ 2):
Waves 2.0: New Consensus with Ethereum Virtual Machine Support.
Open Collective. New governance models, a DAO Framework.
Cross-chain finance: Bridge to all chains, a) Gravity Bridges b) Universal Bridge Integration.
Meta: A bridge between digital worlds, Level 0 Inter-Metaverse Protocol
US Company and Accelerator Program.
Another reason for the growth is the in-house Defi platform Neutrino. Extensive news is expected, which should drive the growth of Waves.
Waves cryptocurrency was founded in 2016 by Ukrainian-born physicist Sasha Ivanov. Waves support the development of Smart Contracts and DApps. These include a decentralized Exchange Waves DEX, a cross-chain, and an oracle network. Waves also penetrated the DeFi space with its in-house platform Neutrino.