Terra Classic welcomes more projects, as the list of projects supporting the LUNC shows growth in a few days.
Terra Classic (LUNC) has had to battle a negative outlook emanating from the Terra collapse and the effects of the persistent bear market. A third factor that impedes the asset's growth is the recent untoward macroeconomic atmosphere. Despite these inhibiting factors, LUNC has seen massive growth, with projects showing support increasing by the day.
A crypto Twitter handle 'Classy,' dedicated to LUNC shared the update in the late hours of Tuesday. "Here's the UPDATED list of $LUNC supported projects! This list is getting WAY bigger than it was a few days ago" the handle noted as a dashboard highlighting the projects was shared.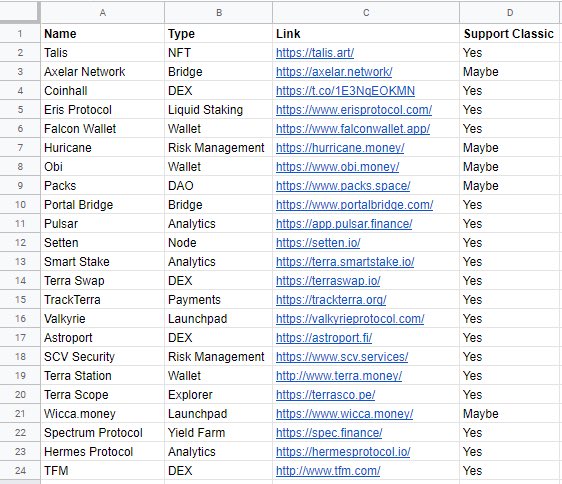 The dashboard shows 23 projects on the Terra network, either indicating outright support for LUNC (Yes) or considering support for the asset (Maybe). 
Out of the 23 projects, only five noted that they are considering support for Terra Classic. On the other hand, a massive number of 18 projects have already declared unmitigated support for LUNC.
The list of the supporting projects includes notable ones such as decentralized analytics platform and data feed, Coinhall; decentralized aggregator Fantom; liquid staking platform Eris Protocol; dApp activation protocol, Valkyrie; and suchlike.
Notwithstanding, protocols considering support for LUNC include risk management platform Hurricane, blockchain bridge Axelar Network, and DAO management platform Packs, among others. The increase in projects willing to support LUNC underscores the surging interest in the asset.
As reported by The Crypto Basic, one of the top Play-to-Earn (P2E) games announced its launch on the Terra Cassic blockchain to boost LUNC adoption.
LUNAtics have been witnessing some victories with LUNC as support for the asset and community proposals regarding its future sees growth. Binance recently declared support for the LUNC 1.2% tax burn on spot and margin trades using trading fees.
Furthermore, as The Crypto Basic previously reported, at the proposed burn rate, Binance alone could burn up to 1 trillion LUNC in a year with a 0.1% fee rate. Notwithstanding, this figure might be far from reality because the highest volumes of LUNC trades are carried out by VIPs who pay no fees.
Despite the roadblock its recent rally has faced, LUNC remains one of the highest-gaining assets in the past month, up by 107% since August 28 as press time. 
The asset is currently changing hands at $0.00027 at the time of reporting, with a slight 0.55% gain in the past 24 hours. With a market cap of $1.71B, LUNC remains the 31st largest mainstream crypto asset by valuation.