The veteran analyst cites his proprietary 3-day trailing stop rule.
Veteran Trader Peter Brandt has asserted that Bitcoin could be forming a 3-day trailing stop rule signal. The analyst made this known in a tweet today.
Hey J-Birds @ChartWizardsNFT
Bitcoin could be setting up a 3-day trailing stop rule signal. Stay tuned. pic.twitter.com/sHITEg53x9

— Peter Brandt (@PeterLBrandt) February 14, 2023
For context, the 3-day trailing stop rule is a risk management strategy developed by Brandt and discussed in his book "Diary of a Professional Commodity Trader: Lessons from 21 Weeks of Real Trading."
Per the strategy, in a short position, the signal to exit a trade is formed when a daily candle closes higher than the high of the candle that created the present low (the set-up day) and is validated when the next daily candle breaks the set-up day high (the trigger day). In simpler terms, when short, close the trade after witnessing two new daily highs following a low.
Looking at the daily chart shared by Brandt, Bitcoin fulfilled a head and shoulders chart pattern last Thursday. However, yesterday's close is higher than the high that formed the current low, forming the set-up day. Consequently, Brandt is cautioning traders that caught the short trade on the head and shoulders pattern to closely watch today's price action and close the trade if it breaks above yesterday's high, which is around the 22,290.51 price level.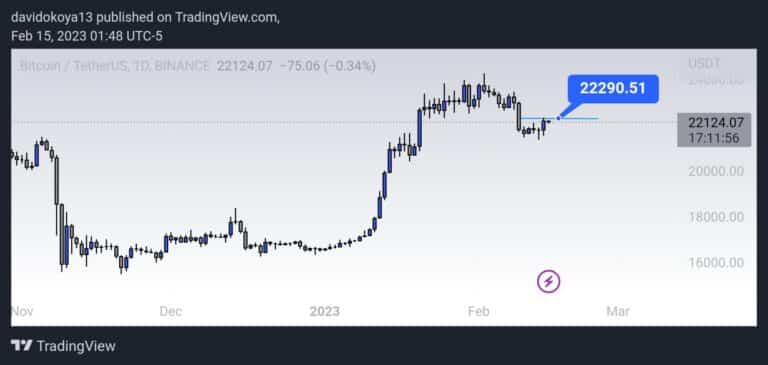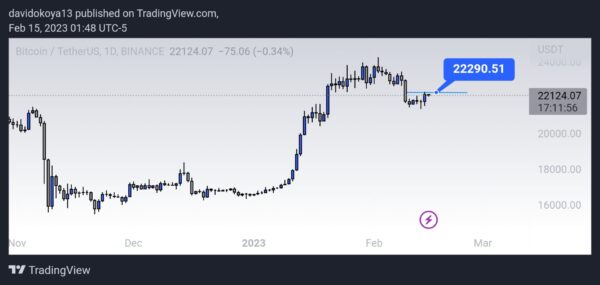 Price action on the 4-hour chart appears to support Brandt's thesis. Bitcoin's price has formed a potential double-bottom pattern and is currently retesting the neckline. If the price finds support, we could see it break yesterday's high in support of the reversal chart pattern.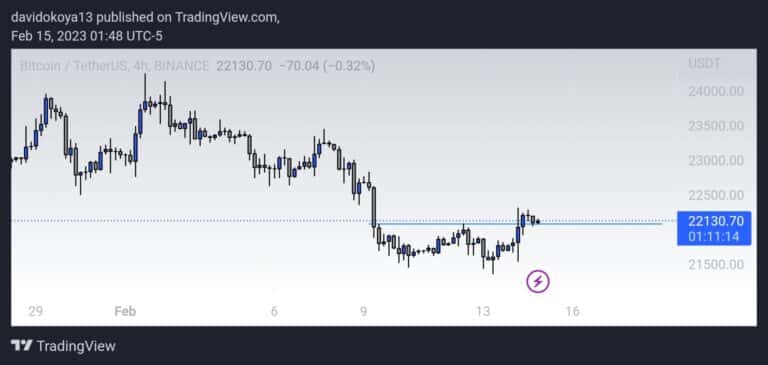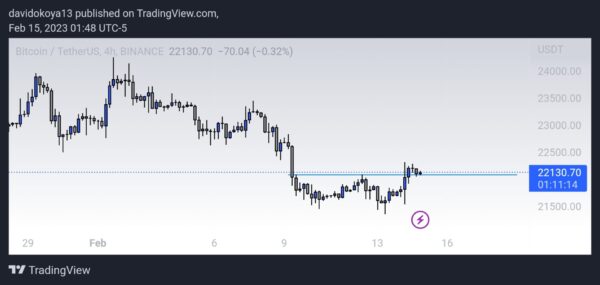 Meanwhile, before yesterday's close, Brandt had asserted in a TradingView trading idea that he expected the asset's price to print another hard down candle as it is "extremely rare" for a price correction to have just one hard down day.
It will not be the first "extremely rare" price action that the veteran trader has recently witnessed on the Bitcoin price chart. At the end of last month, Brandt disclosed that the digital asset had formed a rare "double-walled fulcrum" bottom pattern with a $25,500 price target.
It is worth noting that whales have stepped in to buy the dip after a poor price performance during the weekend. Per a Santiment Feed tweet on Tuesday, the network witnessed its highest $1M+ whale transactions since November.
🐳 #Bitcoin dipped down to $21.6k on Sunday, and whale addresses responded by transacting at their highest rate in 3 months. Read our latest community insight, focusing on why $BTC may be offering a short-term #buythedip opportunity. 🤑 https://t.co/YKwlMxS7br pic.twitter.com/RXL34z8QIB

— Santiment (@santimentfeed) February 13, 2023
Consequently, the asset's price is up 1.7% in the last 24 hours holding above the $22k price point.
Follow Us on Twitter and Facebook.
Disclaimer: This content is informational and should not be considered financial advice. The views expressed in this article may include the author's personal opinions and do not reflect The Crypto Basic's opinion. Readers are encouraged to do thorough research before making any investment decisions. The Crypto Basic is not responsible for any financial losses.
-Advertisement-