The cryptocurrency realm has experienced major ups and downs these past few months and years and throughout it all, crypto enthusiasts are constantly searching for new coins and platforms to engage with. In this article we will cover several trending coins including newcomer ApeMax and presale superstart Big Eyes coin. We will also talk about Crypto Loko Casino and try to understand what this platform is all about.
What is ApeMax Coin?
ApeMax is a new crypto coin with revolutionary stake to earn tokenomics. ApeMax has pioneered a new staking mechanism referred to as "Boost-to-Earn" and which allows stakers to earn as they boost entities they like, may these be their favorite artists or Web3 protocols.
ApeMax has recently kicked off its presale and has gained a lot of traction and attention from the media and from crypto enthusiasts. The ApeMax presale is a good time to secure your ApeMax tokens at great presale pricing. Throughout the presale, ApeMax presale token prices increase automatically after every 24 hour increment. Early buyers can get the most out of the ApeMax presale by looking into the ApeMax early bird loot boxes, allowing early purchasers to enjoy discounts of up to 50% on their ApeMax tokens.
Why is ApeMax Boost to Earn Staking unique?
ApeMax staking is innovative and unique for several factors. Firstly, staking ApeMax tokens is easy and tokens can easily be staked and unstacked within minutes and without the need for technical skills or programming knowledge. The staking interface is highly visual and simple to navigate, and stakers have a wide array of choice when it comes to staking entities.
Unlike Ethereum or other coins, ApeMax staking does not have mandatory lock up periods or high staking minimums, meaning that staking ApeMax is easy and convenient. ApeMax token holders can earn big rewards by staking on entities they like, making it a potential win-win scenario for the staker and the staking entity.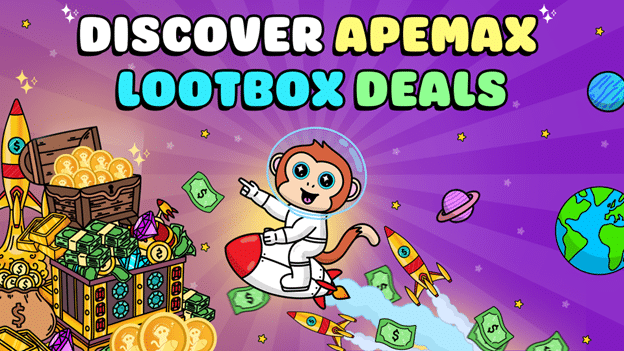 Big Eyes Coin News
Big Eyes is a cute cat themed meme coin and cryptocurrency that has pulled off one of the most successful presales of 2023 and sold over $27 million to date. Unlike the legions of derivative altcoin projects that seek to create a variant of Doge coin or to leverage the popularity of well-known memes, Big Eyes has opted for a differentiated approach by creating its very own and unique character. ApeMax is similar to Big Eyes in this respect in that ApeMax also seeks to forge a new path with a unique brand identity.
The Big Eyes presale is coming to a close and the token will soon be listed on exchanges as well as on Uniswap.
Follow Us on Twitter and Facebook.
Disclaimer: This content is informational and should not be considered financial advice. The views expressed in this article may include the author's personal opinions and do not reflect The Crypto Basic's opinion. Readers are encouraged to do thorough research before making any investment decisions. The Crypto Basic is not responsible for any financial losses.
-Advertisement-