Of the nearly 200 sovereign states and territories across the globe, only a handful of eight have operational Bitcoin spot ETFs that are publicly traded on stock exchanges.
The countries, compiled by the crypto aggregation platform Coingecko, include Canada, Germany, Jersey, Brazil, Liechtenstein, Guernsey, Australia, and the Cayman Islands.
Bitcoin Spot ETF Race Still Ongoing
About a decade ago, the pursuit of the Bitcoin spot ETF was a big deal considering how young the asset was at the time. 
However, with the growing adoption and recognition of its potential, the market regulators in these 8 countries made the bold step to stand on the positive side of history by approving Bitcoin spot ETFs to grant investors a regulated pathway to embrace BTC.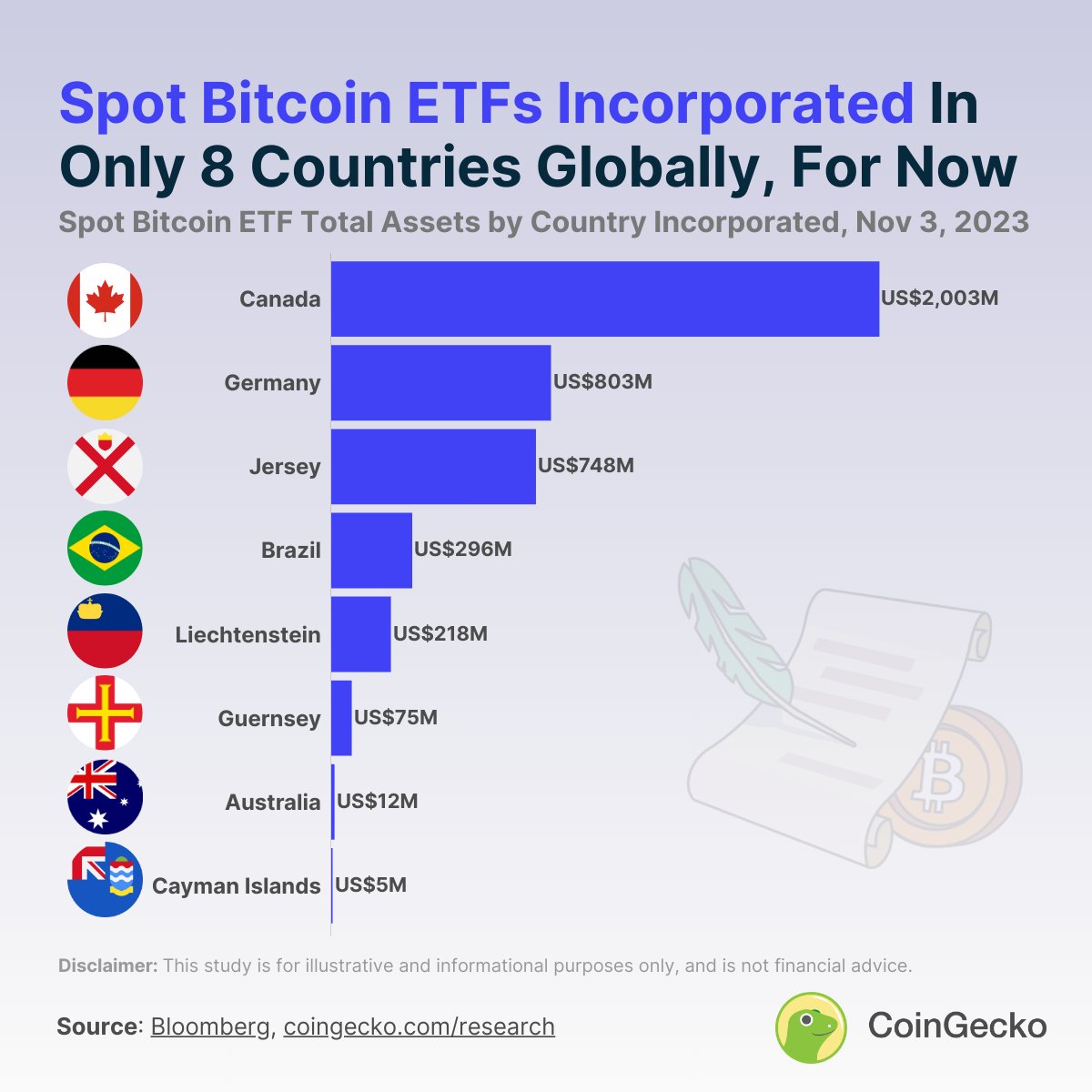 Each of these countries has a varying number of Bitcoin ETFs trading on their stock exchanges. Canada is notably in the lead with a total of 7 Bitcoin ETFs. These products have a cumulative market value of $2 billion.
Germany ranks second with just one ETF incorporated but with an $802.52 million valuation. Jersey, a small British enclave comes third with 4 Bitcoin spot ETFs launched to date, all valued at $747.77 million in total assets.
In fourth and fifth places are Brazil and Liechtenstein, whose Bitcoin spot ETF products come in at $295.74 million and $218.16 million, respectively. Despite the low valuations of the Bitcoin ETFs in Guernsey ($74.66 million), Australia ($12.46 million), and the Cayman Islands ($4.93 million), the progress they have made is worth acknowledging.
According to Coingecko, the study examines actively traded ETFs and ETPs but with the omission of Grayscale Bitcoin Trust (GBTC) as its trading takes place Over-The-Counter (OTC).
Will the US Make History with Bitcoin Spot ETF Approval?
From 2013 when the Winklevoss Twins filed the first Bitcoin spot ETF product in the United States, the SEC has not found a reason to approve the product on grounds of an immature market that is susceptible to manipulation.
The trend is changing though, as Grayscale challenged the SEC, seeing the regulator denied its request to convert the GBTC trust to a full-fledged Bitcoin spot Exchange Traded Fund. The court empathized with Grayscale and ordered a review of the SEC's decision, a verdict that the Gary Gensler-led commission failed to appeal.
While the Grayscales situation spells a good omen, the entrance of prominent financial giants like BlackRock has also bolstered the conviction that approval of a Bitcoin spot ETF in the US is a matter of when not if.
Follow Us on Twitter and Facebook.
Disclaimer: This content is informational and should not be considered financial advice. The views expressed in this article may include the author's personal opinions and do not reflect The Crypto Basic's opinion. Readers are encouraged to do thorough research before making any investment decisions. The Crypto Basic is not responsible for any financial losses.
-Advertisement-