The market capitalization of the fourth largest crypto in the world is almost $75 billion that makes Ripple (XRP) account for 3.2% of the total cryptocurrency market cap.
Over the past 7 days, XRP has jumped more than 40% becoming the world's 4th most valuable digital currency. XRP is currently trading above $1.6 with a market capitalization of over $74.24 billion.
According to Coinmarketcap, XRP's market cap has grown significantly over the past few weeks. XRP now accounts for almost 3.2% of the total market capitalization of digital currencies.
Bitcoin remained the most dominant crypto with approximately 47.8% market dominance. Currently, the market dominance of Ethereum is about 15.6%, followed by Binance Coin (BNB) with a dominance of 4.2%.
The price of XRP has increased by more than 500% since the beginning of this year. XRP was trading at around $0.23 on January 1, 2021. The price gained momentum in April, when the digital currency jumped from $0.569 to $ 1.94, the highest level in more than 3 years.
XRP's overall market dominance has been growing since the beginning of April. The latest surge in Ethereum, BNB, and XRP is causing a sharp decline in Bitcoin's market dominance.
According to Coinshares report, XRP had a significant jump in weekly institutional inflows in April, as the digital asset raised an estimated $33 million in the second week of April.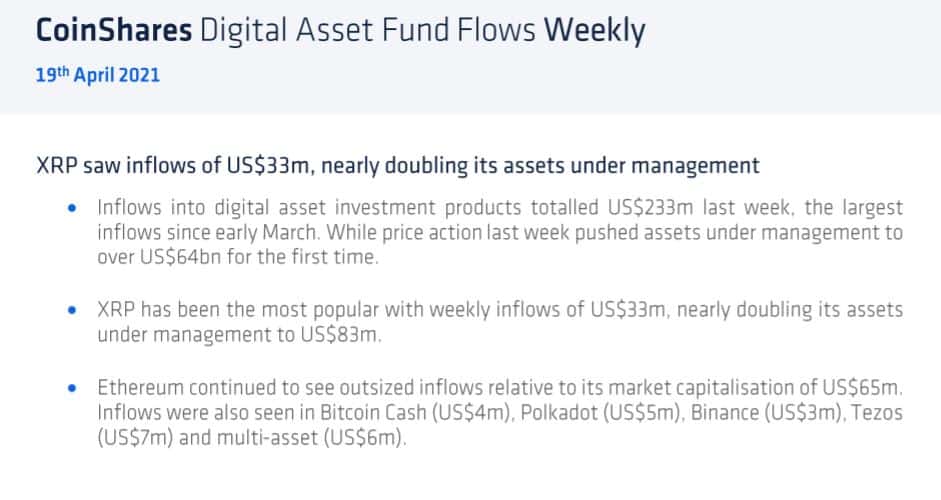 The total difference between the market capitalization of XRP and Binance Coin (BNB) is around $20 billion.
Overall, the market capitalization of digital currencies reached $2.25 trillion on Monday, the highest ever.
Bitcoin (BTC), currently has a market cap of more than $1.10 trillion.