Popular reality television personality, socialite, model, businesswoman, producer, and actress Kim Kardashian is promoting a shady project through her social networks, called Ethereum MAX or ETHMAX Protocol, Kardashian uploaded two Instagram stories in the past 24 hours and asked her fans if they were "into crypto".
The celebrity influencer shared a story about EthereumMax with her 228 million Instagram followers yesterday after previously posting about EthereumMax in May. She said:
"Hey guys, I have a big announcement. Are you guys into crypto???? This is not financial advice but sharing what my friends just told me about the Ethereum Max token! A few minutes ago Ethereum Max burned 400 trillion tokens—literally 50% of their admin wallet giving back to the entire E-Max community."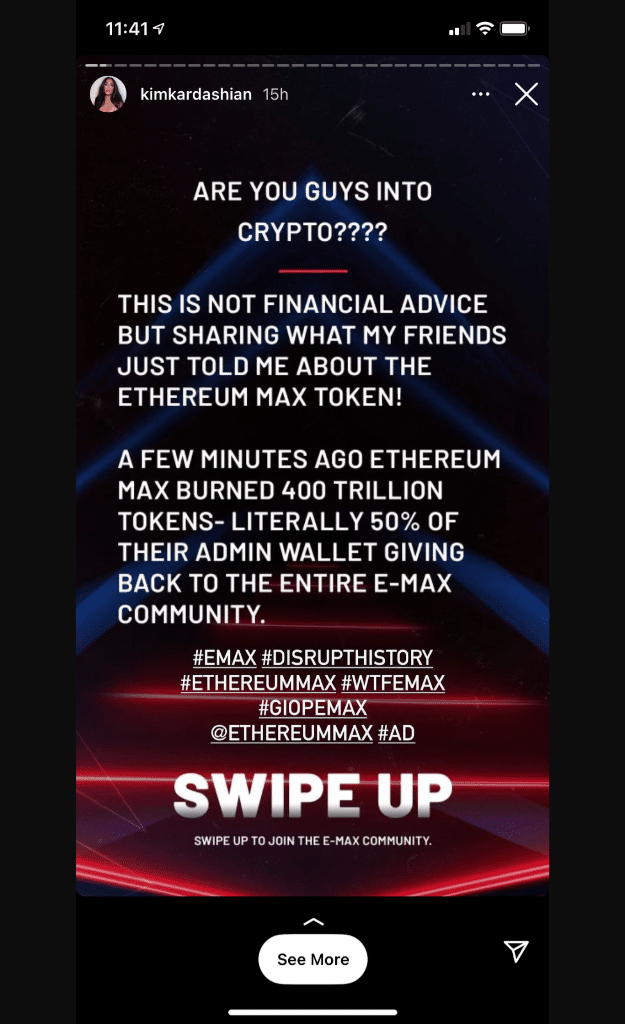 Ethereummax has no whitepaper, background section, and no information about a team behind it, there is nowhere to confirm team identity. The website has no post explaining its tokenomics, goals, or saying its a ERC20 based token.
Many have speculated that Kardashian social media accounts has been hacked. Otherwise there was no way she promotes such a creepy project, but it seems unlikely as the posts have been uploaded for over 10 hours. Furthermore, there was no testimony from Kardashian or her team about a possible hack.
The post is followed by the necessary hashtags, including #AD, which means that this is an advertisement. This is important because it provides some sort of legal protection to celebrities with potentially toxic supplements, lifestyles, and shitcoins.
Kardashian has the 10th largest reach on social media, with 319 million followers on Twitter, Facebook, YouTube, and Instagram as of May, according to Visual Capitalist — and 228 million followers on Instagram alone.
Kardashian wasn't the only celebrity promoting this project. Floyd Mayweather, the American former professional boxer, did the same thing in two separate events: The Bitcoin 2021 conference and his exhibition boxing match with Logan Paul.
Former NBA great Paul Pierce, who found himself out of a job as an ESPN analyst after sharing a video of himself gambling with adult performers, told Sports Network in May he was happier with his new love, EthereumMax:
@espn I don't need you. I got

@ethereum_max I made more money with this crypto in the past month then I did with y'all in a year. TRUTH shall set u Free. my own Boss

EthereumMax check it out for yourself
.@espn I don't need you. I got @ethereum_max I made more money with this crypto in the past month then I did with y'all in a year. TRUTH shall set u Free 🤪🤪 my own Bosshttps://t.co/3irnuWYve3 check it out for yourself

— Paul Pierce (@paulpierce34) May 26, 2021
What is Ethereumax?
It's basically an ERC-20 token, running on Ethereum blockchain. Like Safemoon, it promises token holders a cut in all transactions, in this case 3%. It released two trillion tokens since it launched on the 14th May. It mainly trades against ETH on Uniswap, a decentralized exchange where anyone can list their ERC20 token.
There is no white paper or other document to check its legitimacy, it just reads the following on its landing page:
We launched eMax with a vision to bridge the gap between the emergence of community tokens and the well-known foundational coins of crypto, creating a unique token that provides reoccurring and automatic 3% financial rewards to its holders with a pathway for practical long-term use in everyday life.
The combined reach and engagement of Kim Kardashian and other celebrities could be counted in the millions. In the US, regulators have started to express more concern about the number of people pouring large sums of money into illegitimate crypto projects in hopes of making a quick profit.
Follow Us on Twitter and Facebook.
Disclaimer: This content is informational and should not be considered financial advice. The views expressed in this article may include the author's personal opinions and do not reflect The Crypto Basic's opinion. Readers are encouraged to do thorough research before making any investment decisions. The Crypto Basic is not responsible for any financial losses.
-Advertisement-