- Advertisement -

VeChain price has built a rounding top since May 23 low. A bearish design, and a negative VET outlook that increases the chances to test the 200-day moving average standing at $0.084 which is 22% fall.
VeChain Price disappointed by lack of Investor. VeChain price has not copied bitcoin prices over the past week, trading at a tight range of $0.10059 to $0.1137 since June 8th.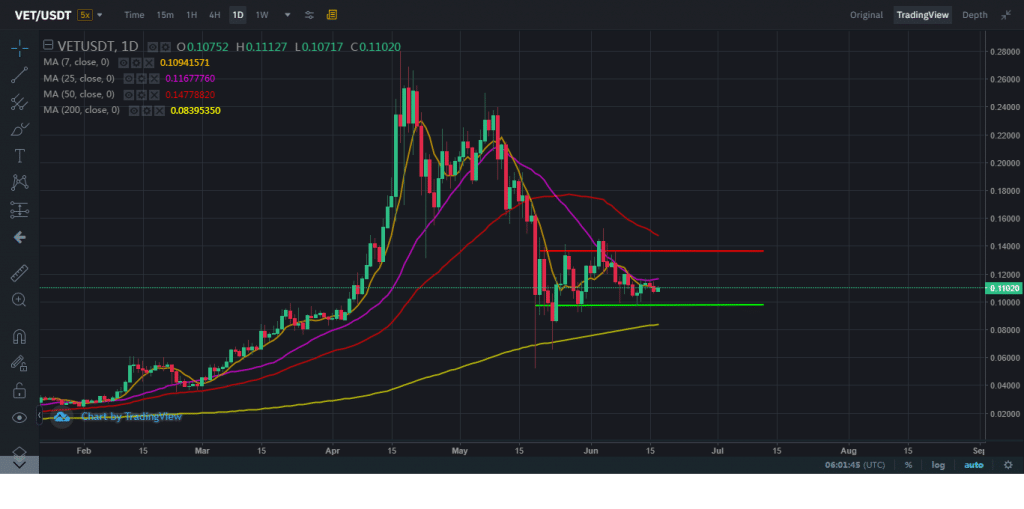 The declining 25 and 50 day moving averages that are well above daily price candles and lack of investors demand to be cautious on Vechain.
VeChain price is currently trading near main support level, that include strategically important 200-day MA at $0.084,  200 day moving average could prevent VET from completely collapsing if the support of $0.095 breaks.
A trade below $0.095 will confirm that VeChain is declining and the immediate target will be 200-day MA, that is present at a 22% decline from current price. If selling accelerate, VET could hit a May 23 low of $0.066.
If selling is accompanied by a wider cryptocurrency market crash. In this case, VET could break below $0.066 and activate a new bearish narrative going as low as $0.044.
A daily VET close above $0.118 will neutralize the bearish position and potentially drive the VeChain price to $0.138, where 50 day moving average is waiting to act as a strong resistance.  This level has been a main resistance in late May and early June for VET.
VeChain price is looking for a break with recent consolidation, but there has been an increased level of risk since the May crash, and altcoins seem to have a higher risk profile than BTC.