Mintme.com is an up and coming, innovative service that aims towards helping influencers, and people with an overall following, to monetize their fame and their popularity by allowing them to create a crypto token to represent their brand or their idea, and market this token themselves with their following in order to crowdfund their projects.
The service is a novel idea, and as of now, it has gathered over 45 thousand users, of which 10 thousand have created their unique social token.
The platform not only works as a crowdfunding service that answers the need for users on how to create a coin of their own, with social and interactive features, but it also works as an exchange for people who would rather use the service for investing or speculation purposes.
We have seen exponential growth in the number of crypto services that have started to appear in the past few years, most of them simply offering an alternative to their usual and more mainstream counterparts. There is a demand for sites and services that let you build your own cryptocurrency in a simple manner.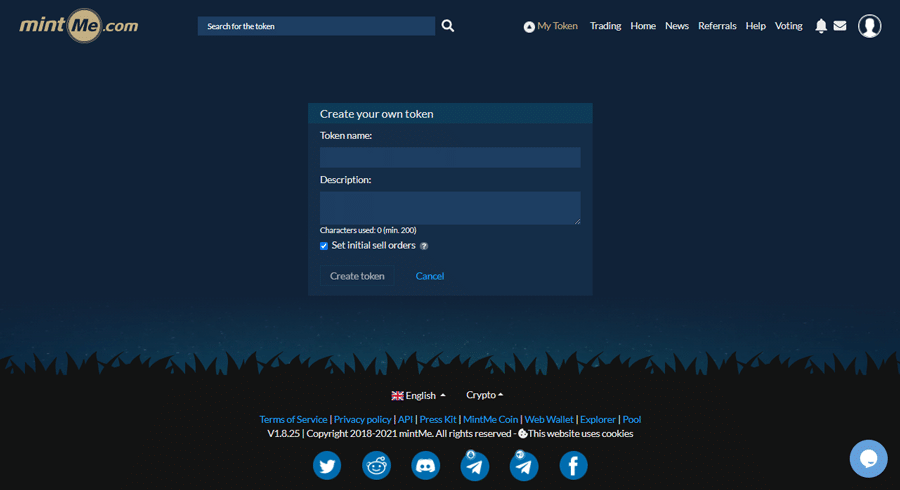 These services are starting to boom and gather bigger and bigger audiences, such as crypto gaming, social tokens, decentralized finance, and more. MintMe tries to tap into the untapped potential of crypto crowdfunding services.
As of now, the service is focusing mainly on developing its platform and implementing new features for a wider audience, such as new trading pairs, new social and interactive features for influencers, and even has plans of implementing the inclusion of new token standards in the near future such as ERC-721 tokens, which would allow users to take advantage of more aspects of their social-focused cryptocurrency.
MintMe also offers many social features for token creators to take advantage of, such as the possibility to share posts with supporters depending on the number of tokens they hold, or the ability to send out airdrops in exchange for small tasks such as following the creator on social media, retweeting one of their tweets or even just by sharing one of their posts online. These airdrops are meant to spread awareness and increase ownership of the coin you are promoting. 
The relationship between the token creator and their supporters is also reciprocal, as both benefit from the success and popularity of the token. The creator receives a donation every time a fan buys their token, and the fan receives a token which they can later trade or hold if they believe in the popularity of the token to rise in the future.
Disclaimer: This is a paid press release, TheCryptoBasic does not endorse and is not responsible for or liable for any content, accuracy, quality, advertising, products or other materials on this page. Readers should do their own research before taking any actions related to the company. TheCryptoBasic is not responsible, directly or indirectly, for any damage or loss caused or alleged to be caused by or in connection with the use of or reliance on any content, goods or services mentioned in the press release.