Due to the continuous burning of ETH coins and fees, some Ethereum blocks become deflationary due to high network load, which then leads to high fees.

According to the burn tracking service, $12 million less Ethereum was issued today than distributed, making the whole day "deflationary."
With the introduction of the fee-burning mechanism, all transaction fees on the network are burned, rather than going into the pockets of miners. Sometimes, due to the high network load, the fees per transaction increase significantly, which then leads to a huge amount of burned coins.
Currently, 16,228 Ethereum were burned today, worth almost $67 million. At the same time, only $54 million was given to the stackers as a reward. Miners received only 2,495 ETH as tips.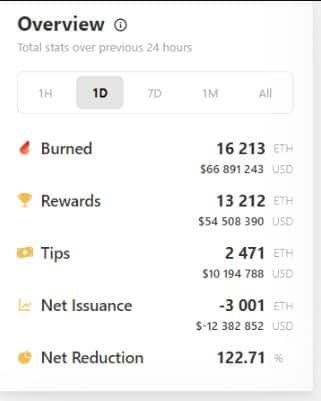 Under high network congestion, the base fee stays in the normal range, while the miners' tip actually goes up. The "transactional auction" is still used on the network, resulting in a significant increase in fees.
Ethereum's base fee is currently 154 Gwei. Total issuance since EIP-1559 activation remains at $2 billion estimates. The total number of coins burned after EIP-1559 was 654,000 ETH, worth almost $2.7 billion.
Follow Us on Twitter and Facebook.
Disclaimer: This content is informational and should not be considered financial advice. The views expressed in this article may include the author's personal opinions and do not reflect The Crypto Basic's opinion. Readers are encouraged to do thorough research before making any investment decisions. The Crypto Basic is not responsible for any financial losses.
-Advertisement-