Bitcoin whales, defined as addresses or clusters of addresses holding between 100 and 10,000 $BTC, have reportedly accumulated a whopping $2.36 billion worth of the flagship cryptocurrency after its price started dropping, data shows.
According to cryptocurrency analytics firm Santiment, bitcoin whales accumulated about 40,000 BTC when bitcoin's price dropped to a $56,000 low last week. Considering bitcoin is now trading at around $59,000 per coin, whales have accumulated well over $2.3 billion of the cryptocurrency.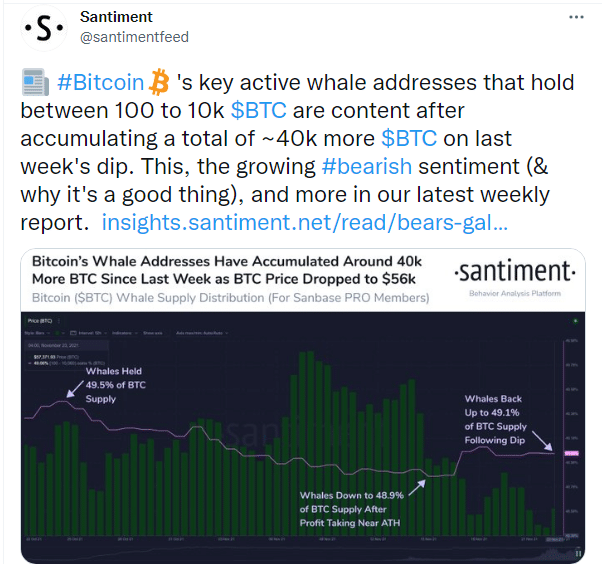 Bitcoin has been on a correction course over the past couple of weeks and it has turned out to be an immense opportunity for BTC whales to buy the dip, particularly one whale that added BTC 6,770 worth $384.29 million to their kitty in less than two weeks. The whale, who happens to be the third-largest BTC whale, has been buying Bitcoin in chunks for nine straight days, their latest purchase being on Thursday when they added another BTC 105 (worth $5.96 million) to their wallet.
This particular whale appears to be pretty active, buying and selling the asset whenever there is a sharp dip or appreciation, but given the rough patch Bitcoin has been recently, the whale has been on a BTC accumulation spree, as CryptoQuant's analyst Venture Founder commented on Twitter. Starting from November 12, the whale has made nine consecutive purchases as Bitcoin's price was declining. The first one, for BTC 1,123, came at just over $64,000, while the last one – from Thursday, was at a price tag of $57,900 and was for BTC 105.