According to Shibburn official twitter account, a total of 177,609,733 $SHIB tokens have been burnt with 55 transactions, in the last 7 days.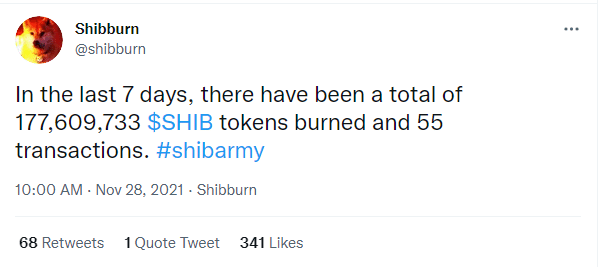 On the other hand, the number of Shiba Inu token holders has surpassed 1 million, that's a significant advance in adoption for the meme coin.
On one side, community is engaged in burning tokens, by sending it to dead wallet. Burning definitely will decrease the circulating supply of the token and holders keep on increasing, showing the increase in demand. Whenever demand increases, supply decreases, the price shoots.
Furthermore, the online merchants around the globe are now accepting Shiba Inu coin as a payment option. This is increasing utility case of the token.
According to SHIB developer, Shytoshi Kusama, SHIB token supply is designed to be static. Means there is no way to permanently delete the token from circulating supply, but utility.
By keeping in mind, Utility as a burning mechanism, Shytoshi Kusama, in his recently published medium states that:
"Now listen, at first glance, burning Shib seems to be the only way that Shib will grow, but by this time next year, you'll see that being able to spend Shib has it's place in total world Shibanation. "
In short, decreasing supply, increasing demand and utility, all supports the extreme bullish bias for the token. So, I believe, SHIB Token Price has the potential to go to not the Moon only, but the Mars.