Safemoon Inu is a community-driven meme and gaming token.

Safemoon Inu features a system that distributes 2% of every transaction to holders. This approach incentivizes all holders and rewards those that stay on board. As a smart ERC20 token, SMI became an official Enjin Adopter project in October 2021 with their very first game, Moonshot Voyage. With SMI Play, its up-and-coming, play-to-earn metaverse gaming platform that is inclusive of in-game NFTS, SMI offers further attractive rewards for its token holders.
SMI Token Overview
Total Supply: 1,000,000,000,000
Transaction Tax: 4%
Market Cap: 16,305,167.08 USDT
Launch Date: May 2021
Coinstore.com Listing: 30 December 2021
What is the Token Utility of SMI?
Being a smart ERC20 token, SMI has compelling case-uses such as:
Retaining a higher chance of receiving rare NFTs with games on the SMI Play platform.
Acquiring larger opportunities to get the rarest NFTs with the more SMI you own.
Additional in-game benefits in all SMI Play games.
At the time of writing, one SMI token is valued around $0.000016 USDT, with a 24-hour trading volume of $621,661 USD. Taking into consideration the growing significance of the Metaverse and NFTs, SMI is expected to expand even further and achieve widespread traction.
A Closer Look at SMI's Tokenomics
SMI has a total token supply of 1,000,000,000,000 with a transaction tax of 4%. More details of SMI's tokenomics are as such:
2% tokens redistributed to all holders pro-rata on every transaction
Liquidity are locked in for 6 years, preventing rug pool
For every transaction using SMI Play games Token Items includes a 4% fee that goes straight into the community development wallet.
SMI's Roadmap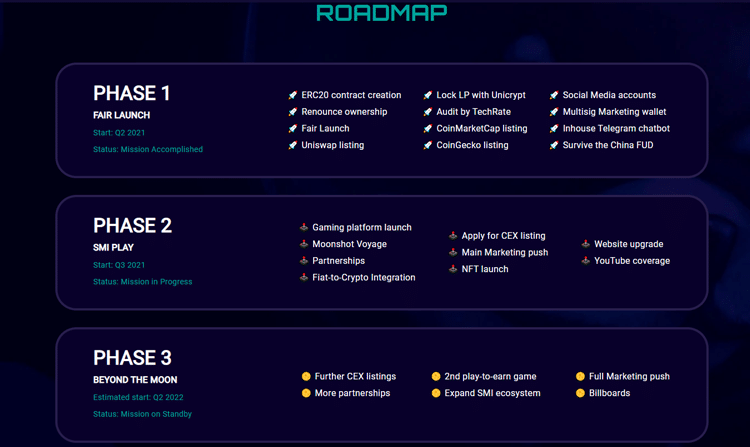 Being a token that allows users to earn cryptocurrency via the play-to-earn model, SMI has mapped our several thrilling projects in their roadmap. Here is a look at some of the major plans they have set out to accomplish:
To launch the beta version of Moonshot Voyage, SMI's first SMI Play game, by the end of December 2021
To launch the early access of Moonshot Voyage by 2022
To establish the SMI Play Metaverse app by 2022
Users who are interested in trading SMI can check out Coinstore.com from 30th December 2021 onwards.