- Advertisement -

What is MISA?
With aspirations to own digital tokens and offer services to other businesses that want to be tokenized, MISA was created to be a pioneer in the tokenization process in Indonesia. Creating an Indonesian crypto market using native Indonesian stable tokens, MISA aids the process of issuing tokens for various businesses, including NFTs for Indonesian artists.
MISA Token Overview
Total Supply: 200,000,000,000
Transaction Tax: 0%
Launch Date: 27 September 2021
Coinstore Listing: 30 December 2021, 14:00 (UTC+8)
Deposit Time: 29 December 2021, 14:00 (UTC+8)
Withdrawal Time: 1 February 2022, 14:00 (UTC+8)
 What is the Token Utility of MISA?
As a stable token native to Indonesia, the MISA token has multiple-use cases such as:
The modernization of plantations and increasing planting area
Creating a crypto exchange in Indonesia that contains "stable tokens" native to Indonesia based on fixed assets and blockchain technology
Helping MSMEs and various real businesses that require long and medium-term funding with "tokenization"
Becoming an incubator and investor for MSMEs and startup companies in Indonesia
Aid MSA in becoming a token company that possess sufficient assets in the cryptocurrency world
At the time of writing, one MISA token is valued at $0.000157~ USDT, with a 24-hour trading volume of $130,823, and a stable rise of 4% in the last 24-hours. With huge ambitions to become a pioneer in the tokenization process in Indonesia, MISA is expected to rise in popularity and achieve widespread success.
A Closer Look at MISA's Tokenomics
MISA has a total token supply of 200,000,000,000, with a transaction tax of 0%. More details of MISA's tokenomics are as such:
50% tokens will be left in the Public with a composition of 25% PRE ICO and 25% ICO
10% tokens are held by the founders
20% tokens are allocated to stakeholders
20% tokens are held by project developers
MISA token has no transaction fee.
MISA's Roadmap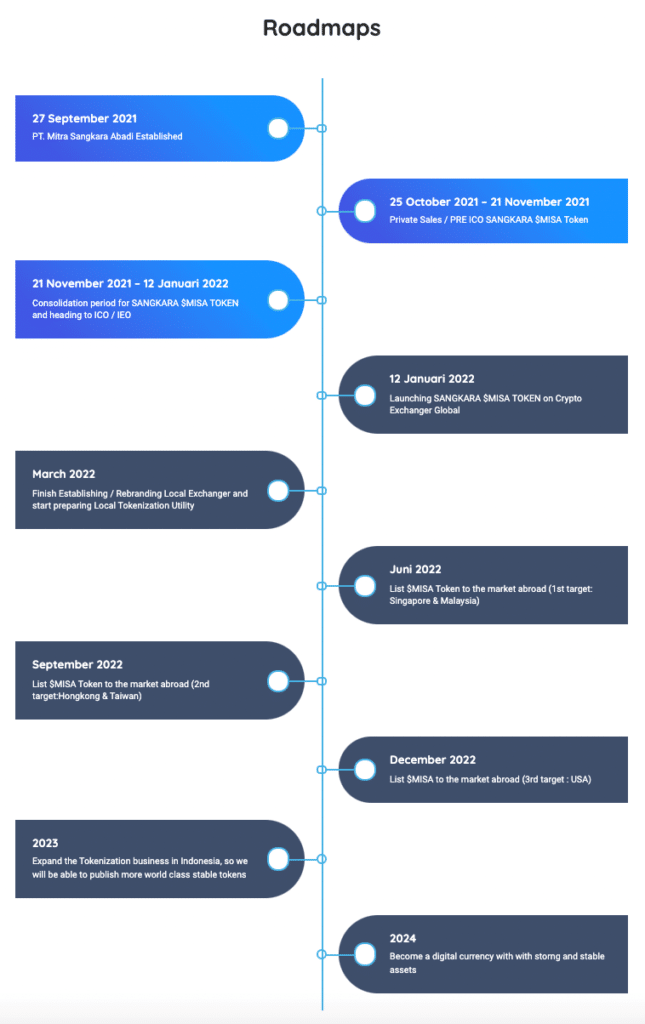 Being the first token in Indonesia with underlying fixed assets and NFT creation for artists, MISA has mapped our several thrilling projects in their roadmap. Here is a look at some of the major plans they set out to achieve:
Establishing and rebranding a local exchange and prepare the Local Tokenization Utility by March 2022
Expanding the Tokenization business in Indonesia to be able to publish more world class stable tokens in 2023
Becoming a digital currency with strong and stable assets
Users who are interested in trading MISA can check out Coinstore.com from 30th December 2021 onwards, and be a part of this growing project!
MISA's Official Channels
Website: https://misatoken.com/en
Telegram: https://t.me/MisaCoin
Twitter: https://twitter.com/misatokenid
Facebook: https://web.facebook.com/Misatoken-110397478093026
Instagram: https://www.instagram.com/misatoken/
Get MISA on Coinstore: https://www.coinstore.com/#/spot/MISAUSDT
Download the Coinstore app: https://www.coinstore.com
About Coinstore
Coinstore's goal is to advance the crypto industry to the next level and provide access to popular digital assets to the mainstream public. Encompassing a whole new concept of "fun" in finance, Coinstore also aims to equip our users with experience and techniques to buy, sell and trade on the go. Still in its up-and-coming stages, Coinstore welcomes community members and interested influencer partners to join us for collaborations.
Media Contact:
Charles Tan, Marketing Head, Coinstore
Liu Yi Yun, Branding Executive, Coinstore
Coinstore Social Media:
Twitter: https://twitter.com/coinstore_en
Telegram Discussion Group:https://t.me/coinstore_english
Telegram Announcement Channel:https://t.me/coinstore_global
Facebook: https://www.facebook.com/coinstore.en/
Website: https://www.coinstore.com
Discord: https://discord.gg/KKHtHa4KPX
Instagram: https://instagram.com/coinstore_exchange
Youtube: https://www.youtube.com/channel/UCHu0m61HHuDftQVE_0jHaYA/videos
TikTok: https://www.tiktok.com/@coinstore_global