Investors who bet against bitcoin were disappointed and lost money badly, as the world's largest cryptocurrency clinched a sharp price recovery.

Bitcoin again crossed the $40,000, then 4th, for the first time in two weeks, as Wall Street volatility proved to be a boon for the most optimistic cryptocurrency investors.
Data from Cointelegraph Markets Pro and TradingView showed that the BTC/USD pair suddenly broke above $40K on Feb 4, just 2 hours after Wall Street started to deliver quick gains.
In the past 24 hours, Bitcoin has been able to jump from the 37K range to above 41K adding $4K racing above $41500 — an unexpectedly strong performance, which naturally caused short sellers significant pain.
According to Coinglass, bitcoin liquidations have passed $114 million in the last 24 hours, with the total market liquidation exceeding $300 million. In the past 24 hours, 73,610 traders were liquidated. The most significant single liquidation order happened on Okex – BTC-USDT-SWAP value $3.18M.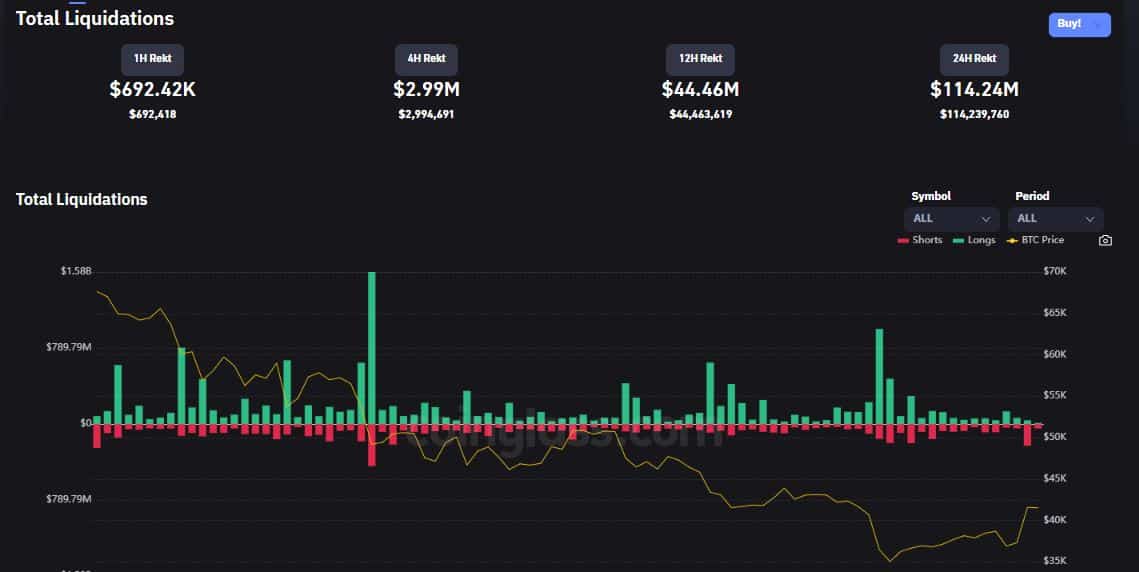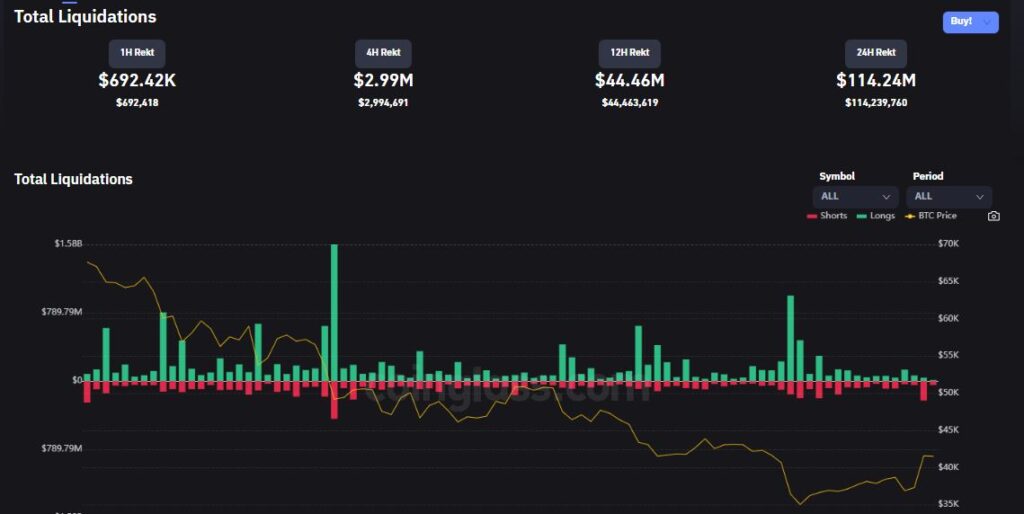 Data shows that despite the sharp rise in prices, the 24-hour BTC contract liquidation of around $114M in short positions indicates that the derivatives market was relatively cold, and the spot market drove the rise.
The ETH/USD pair was able to cross the psychological level of $3K, Ethereum was able to gain 12% rising from $2670 to $3032 in the last 24 hours.
Others in the top ten cryptocurrencies by market cap are green, with the best performer being Polkadot, which is up 15%, Solana up 10%,  XRP up 9%, and Terra up 12% in the last 24 hours.
Earlier TheBlock noted that the speculators were disappearing from the market by selling their assets and Bitcoin long-term addresses were mostly involved in accumulating Bitcoin at lower prices.
Speculation has faded from the #crypto markets.

The number of $BTC traders – addresses holding for less than 1 month, have decreased by 32.07% since December 28th.

The buying pressure is now coming from medium and long-term holders which have been accumulating at these prices. pic.twitter.com/xkIt10TKBW

— IntoTheBlock (@intotheblock) February 3, 2022
Why Is Crypto Market Is Going Up?
Looking at macroeconomic conditions, little has changed. Interest rates are expected to rise, and speculative money mostly flows into defensive assets.
However, The Wall Street session opened with new gains for Amazon, thus helping to fuel the cryptocurrency's bullish move.
Also, The Nasdaq index, which has been closely associated with cryptocurrencies recently, rose more than 2%.
Famous trader 'Light' said that there was enough selling in 2 months and we see a rebound.
"I doubt there's spot inventory left to sell at $40k. What was going to be sold has been sold already in a 2-month downtrend capped off by a macro panic. Also, I doubt buyers in the $30k area bought to sell here. Similar in many ways to the $6k level in 2019."
Follow Us on Twitter and Facebook.
Disclaimer: This content is informational and should not be considered financial advice. The views expressed in this article may include the author's personal opinions and do not reflect The Crypto Basic's opinion. Readers are encouraged to do thorough research before making any investment decisions. The Crypto Basic is not responsible for any financial losses.
-Advertisement-