- Advertisement -

Active Addresses Show That Polygon is Now Among The Top 3 Blockchain Networks.

There are indications that the Polygon blockchain has broken into the top three. This was shown by blockchain data on Nansen.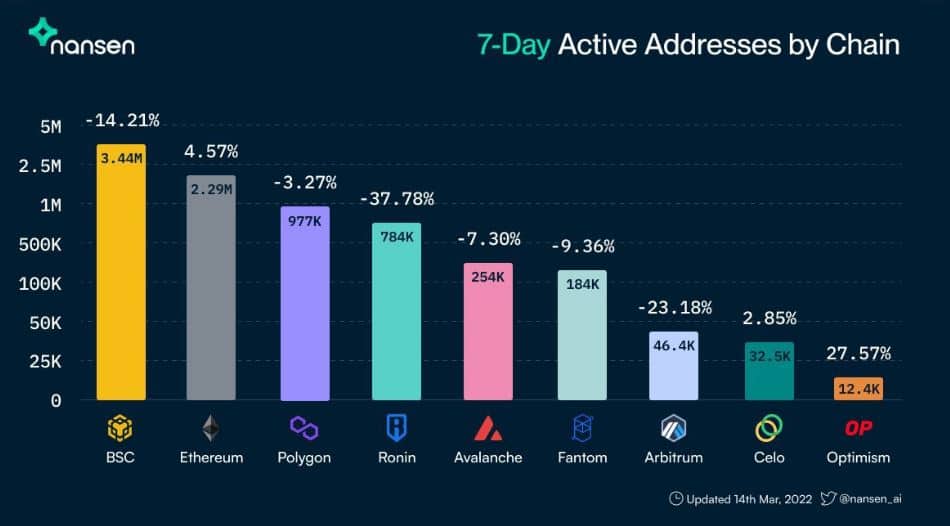 The data shows that Polygon is hosting some of the most active addresses in the past 7 days. The data shows that the network is now among the three most active blockchains. This is an indication of the high demand that users and developers have placed on the network.
Analysis from the chart shows that only two other blockchains, the Binance Smart Chain and Ethereum have more active addresses than Polygon.
Other blockchains that are in the top league in terms of high activity are Ronin, Avalanche, and Fantom, which are in the fourth, fifth, and sixth positions respectively.
What can be observed from the data provided by Nansen is that the Binance Smart Chain has been the most active in the past 7 days with 3.44 million active users.
Ethereum, the second most active blockchain has 2.29 million active wallets that had transactions in or out of them in the past 7 days. Polygon, the third most active blockchain, had 977,000 active wallets in the same period of 7 days.
Observing the trend are saying that the Polygon network may be a game-changer in the industry. The popularity of the chain has not surprised many users considering that it is a low fee network that has saved users millions of dollars in gas fees.
The Nansen data, which was updated on March 14, shows that blockchains such as little-known Arbitrum, Celo, and Optimism have more activities on them. Arbitrum had 46,400 transactions, while Celo and Optimism had 32,500 and 12,400 transactions in the past 7 days.