Gate.io Startup is the perfect place for investors who want to get in on the ground floor of some of the world's most innovative and exciting new projects. Powered by Gate.io, one of the biggest and fastest-growing crypto exchanges globally, Gate.io Startup has unique features that set it apart from competitors.

Whether you're a crypto investor or entrepreneur, Gate.io provides many opportunities that can guarantee your success. Keep reading to find out more about the platform!
What is Gate.io Startup?
If you've been investing in crypto for quite a while or are a crypto entrepreneur, it's likely that you've already heard of Gate.io. Established in 2013, the exchange's reputation precedes it: It's one of the most trusted exchanges in the market and was rated 4.5 stars by Forbes Advisor.
In 2019, Gate.io introduced Startup, and since then, it has earned a high approval rating from the users owing to its outstanding performance of average returns. In a nutshell, Gate.io Startup is an exclusive platform that helps innovative projects get funding and exposure early on.
Exactly, Gate.io Startup is a blockchain assets discount offering platform to provide decentralized blockchain assets (BTC, ETH, etc.) sales with discount.It's the perfect place for new cryptocurrency projects to launch, as Gate.io Startup provides access to Gate.io's existing user base, as well as greater exposure to potential investors.
It has since upgraded to Startup 2.0, offering project teams better functionality and enhancing security measures for all its users.
How Secure Is Gate.io Startup?
A listing on Gate.io Startup means these projects have been authenticated and verified by the established Gate Ventures. This, in turn, provides more confidence and trust to users who are considering investing in them. 
A project's goals, objectives, finances, accountability, team members, and other stakeholders involved in the operation are carefully reviewed to ensure that only promising projects are selected.
Despite a rigorous screening process, the company is nevertheless devoted to protecting consumers' assets and investments. 
What Are the Benefits of Using Gate.io Startup?
Gate.io Startup offers several benefits, including:
Early Access
With Gate.io Startup, you'll have early access to some of the most exciting projects in crypto. That means you'll get first dibs before everyone else gets to know about them – and that could mean big profits down the road!
Huge Coin Variety
Gate.io exchange has over 1,300 tradable digital currencies, providing users with a huge variety of coins for trading and investing. Click here to view the full list of supported cryptocurrencies.
High Project Quality
With Gate.io Startup, you are assured that you're investing in projects verified and authenticated by Gate Ventures – so you are confident that your money has been invested wisely into something worthwhile.
Great Track Record & Security
Best of all, the platform has a good track record, with many projects achieving high ROIs since Gate.io Startup launched in 2019. 
How To Use Gate.io Startup: Step-by-step Guides
To Apply for a New Coin Listing
Reminders: 
In order to submit new coin listing requests, individual applicants need to provide the requested information after clicking 'Application by User)

'Application by project team' is only open to companies. They must offer authentication documents to ensure that their projects are genuine and secure.

Gate.io Startup will further screen out unreliable initiatives based on the early evaluation findings to assure the quality and potential of the projects to be listed.

If a Gate.io user recommends a project, Gate.io staff will send an email to the initial person who recommended the project, rewarding them with 500 to 1000 GT. 

If your company is applying as a project team, make sure to provide all of the required materials. The application will not be granted if the materials submitted are incomplete.
Step 1
Navigate to the Gate.io website (https://www.gate.io) and log into your Gate.io account. Click on the 'More' tab on the top navigation bar and then click 'Listing.' 

Step 2
Select your application type. Choose 'Application by Project Team' if applying for a company or 'Application by User' if you're an individual applicant.

Step 3
You will be sent to this page after pressing the 'Application by User' button. Fill in the required information in the boxes and click 'Submit.'
To Participate in Gate.io Startup
Step 1
Navigate to the Gate.io website (https://www.gate.io/startup). To access Gate.io's Startup page, go to the top left menu and choose "Startup." 

Step 2
The "In Progress" section is for ongoing projects. To view project details and participate, simply click on the projects.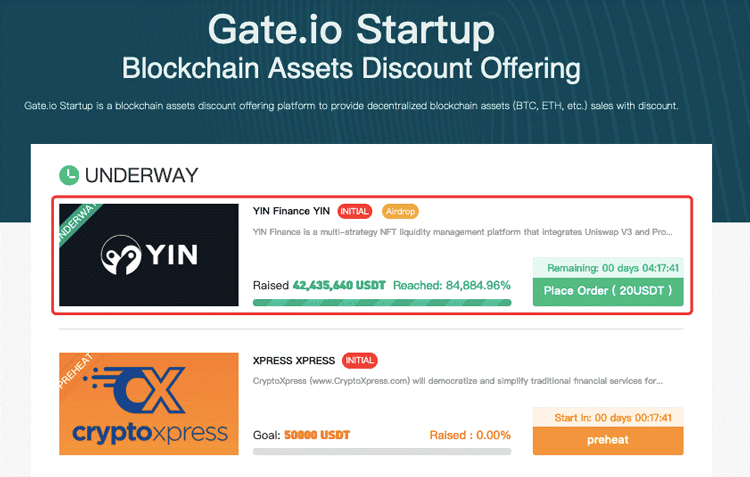 Step 3
Provide the necessary information requested from you and fulfill all requirements:
Create a Gate.io account and login using your credentials.

Go through the KYC registration process.

Make sure your spot account has enough balance.

Read and sign the Purchase Agreement.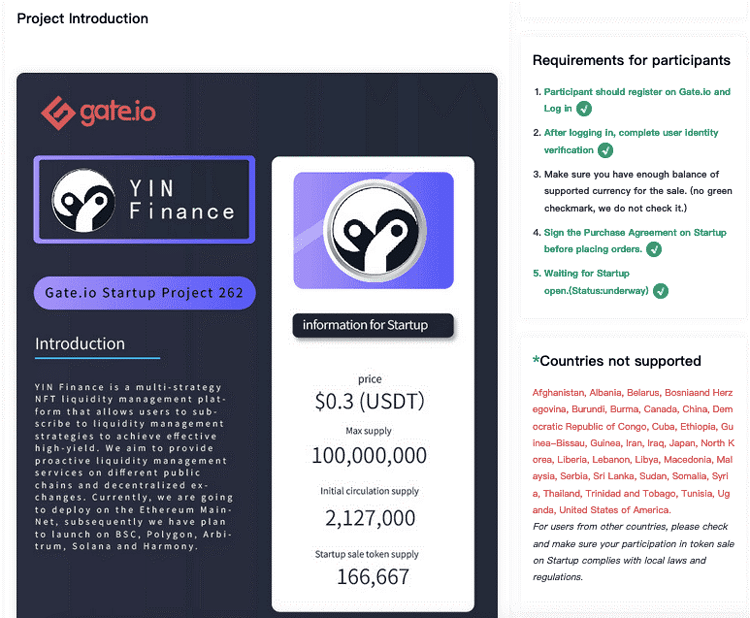 Step 4
Click on "Place Order." Your order will be processed if the participation conditions are duly met.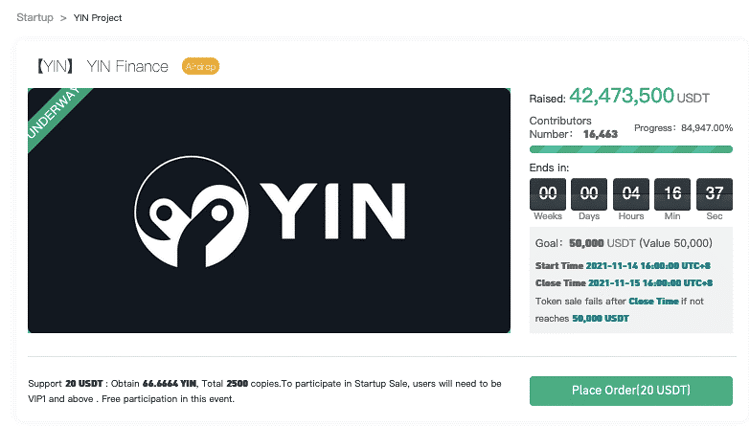 Step 5
Check the item quantity and the currencies that are supported. Enter the order amount (cannot exceed the maximum order amount) and then "Place Order."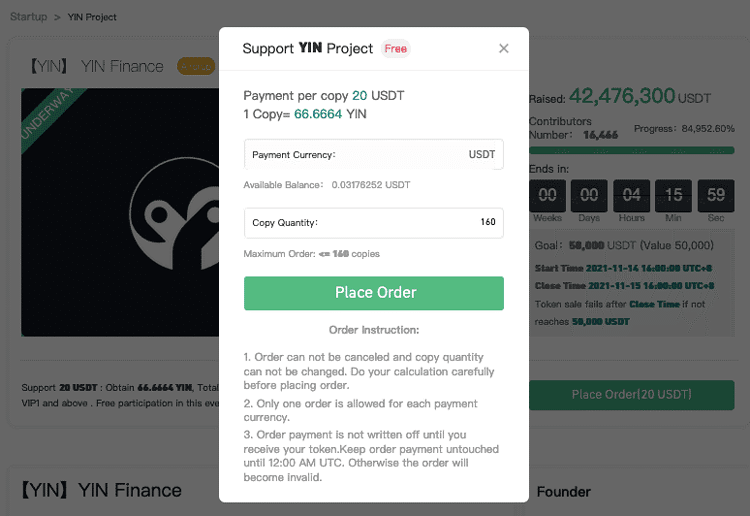 Step 6
Go to "Order" – "Startup" and view the participation results, as well as the order status. The Startup history can also be viewed if the participation is denied.

How can users become VIP 1 to participate in Startups?
To become a VIP1 user, there are 3 options, you can choose any one:
– Trading volume for 30 days should be 1.5 BTC while holding 20 GT Tokens.
–  Holding 100 GT for 14 days in Spot account
– Spot Account value reaches 0.05 BTC or above for at least 24 hours.
Read More here: https://www.gate.io/fee
Subscription Rules
Purchase limit: The maximum subscription limit for a single user is 1000 shares; the relationship between the VIP level and the maximum subscription allocation is:
the maximum number of subscriptions (not the final actual subscription number) = the square of the VIP level multiplied by 10. For example:
VIP2 users can subscribe up to 2 * 2 * 10 = 40 shares
VIP3 users can subscribe up to 3 * 3 * 10 = 90 shares
Why Should You Go With Gate.io Startup?
The goal of Gate.io Startup is to support the further development of blockchain technology and promote constant technical innovation. As the demand for cryptocurrency continues to grow, the Gate.io Startup team constantly researches new prospects and evaluates new markets and products with development potential. NFTs, GameFi, DeFi, Web3, and others are among those that receive special interest. 
Thanks to the growing popularity and use of digital currency, cryptocurrency is expected to have limitless scope and will continue to provide opportunities for traders, investors, developers, and entrepreneurs. And the massive user base of over 10 million registered users on the GateChain ecosystem is only expected to grow over the years.
'Over the last year, the crypto market has reached new highs as the amount of both traditional and institutional investors in the industry grew rapidly. As interest in the market continues to grow, we remain committed to supporting new projects in the space, allowing investors to get in early on some potential gems through Startup,' says Gate.io Chief Marketing Officer Marie Tatibouet.
Gate.io Startup offers a distinct value proposition to investors and projects alike by utilizing the resources of the Gate.io ecosystem, particularly Gate Ventures. The platform ensures that only thoroughly vetted, highly promising ventures are featured on the site. 
Gate.io Startup is a win-win for both projects and traders – projects gain access to essential funding, while traders have an early opportunity to invest in low-cap gems, translating into a higher number of investment options. So if you're looking for a launching pad for your next big idea or want an advantage over the competition, Gate.io Startup is the place for you!