- Advertisement -

Australian Crypto Exchange CoinSpot Partners Dutton Garage to let Aussies Buy Luxury Cars with Crypto.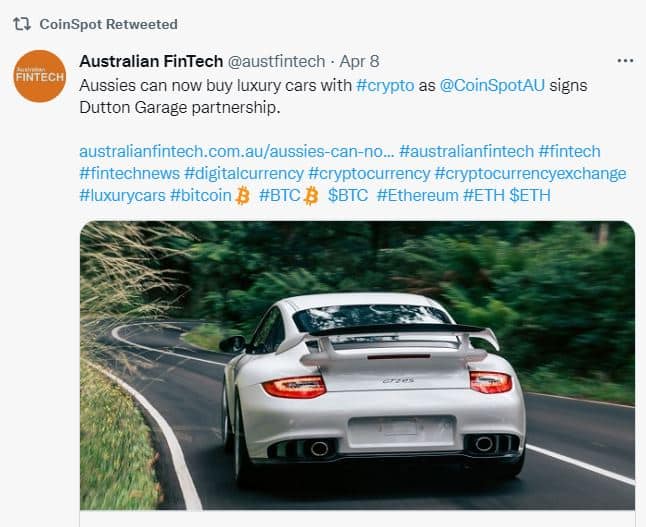 Image source: Twitter
Bitcoin and Ethereum are two cryptocurrencies that have been enjoying widespread adoption recently. This started with institutional investors acquiring them as part of their portfolios.
Australia is recognized as one of the most crypto-friendly countries globally and has helped facilitate crypto adoption. One of the latest mainstream adoptions in Australia for crypto is the recent possibility for Australians to pay for luxury cars such as Porsches using Bitcoin, Ethereum, or any of the other 30 cryptocurrencies on CoinSpot. 
This has been made possible through a partnership between top Australian crypto exchange CoinSpot and Dutton Garage, a luxury car retailer based in Melbourne. Customers can now pay for its merchandise from the retailer with crypto in part or whole.
"Working with CoinSpot has enabled our customers to access their crypto investments and transact with us seamlessly and transparently," Dutton Group chief technology officer Juv Jayaram said.
CoinSpot expanding crypto utility
Adopting the use of crypto for buying products and services is a significant way to encourage the adoption of digital currencies. CoinSpot's partnership with Dutton Garage is playing its part in increasing its utility by promoting the use and adoption of cryptocurrencies.
"As Australians continue to look for more ways to find value in their crypto investments, CoinSpot's partnership with Dutton Garage symbolizes our commitment to expanding the utility of crypto. With Web 3.0, digital currencies are becoming more than just stores of value, and instead, legitimate ways to purchase big-ticket items, whether that's a Bored Ape NFT (non-fungible token) via CoinSpot's NFT marketplace or buying a Porsche 911 with Bitcoin from Dutton Garage," CoinSpot Chief Product Officer Gary Howells said.
Customers looking to buy cars from Dutton garage can request to use crypto for payments, and the company associates will facilitate the transaction using their dedicated CoinSpot Account Manager.
Luxury car sellers embracing crypto
Dutton Garage is not the first luxury car retailer to adopt the use of crypto for payment. The global leader in electric car manufacturer Tesla has also adopted Bitcoin as payment for its merchandise, although this was short-lived due to environmental concerns.
More recently, the company's CEO Elon Musk, who is also fondly referred to as the father of Dogecoin, approved using the meme coin as payment for some of its merchandise. These go a long way in making cryptocurrencies useful for day-to-day living.