- Advertisement -

Above 258.29 Million Shiba Inu (SHIB) Burnt Within Past 24 Hours.
Shibburn.com recently released a 24-hour burn figure and reported that 258,294,131 (258.29M) SHIB tokens have been burned through 11 separate transactions by the community-led burning initiatives and developer built burning mechanisms during the period of last 24 hours.
In the past 24 hours, there have been a total of 258,294,131 $SHIB tokens burned and 11 transactions. Visit https://t.co/t0eRMnyZel to view the overall total of #SHIB tokens burned, circulating supply, and more. #shibarmy

— Shibburn (@shibburn) April 12, 2022
Two newly emerged tokens, 1Cent and ScareCrow (SHIB Protector), contributed the largest share and appeared to be the top SHIB burner of the day.
1Cent Weekly Burn Event:
For the 5th month straight, 1Cent, a newly emerged token supporting SHIB burn, organized a Weekly Burn Event on 11th April 2022. The project claimed that they sent 145,686,435 (145.68M) SHIB to the dead wallet in one large transaction yesterday.
In total, the project "1Cent" has taken out a whopping 1,311,802,045 (1.31B) SHIB from circulation within one month and four days.
I am pleased to announce the 5th burn 145,686,435 million SHIB burned in 1 month 4 days, a total of 1,311,802,045 shib 🚀🚀🚀 let's go for More the more shibarmy the more BURN 🔥 @DiarioCripto @Shibtoken @SHIBQueenie https://t.co/1Ml7BSjfgw pic.twitter.com/lvGSBZ8hPb

— 1Cent (@1Cent_token) April 11, 2022
ScareCrow (SHIB Protector) Auto-Burn Mechanism:
ScareCrow (SHIB Protector), another newly emerged token using its unique auto-burn feature, burned 104,563,610 (104.56M) through 4 separate transactions, as per data provided by Shibburn.com.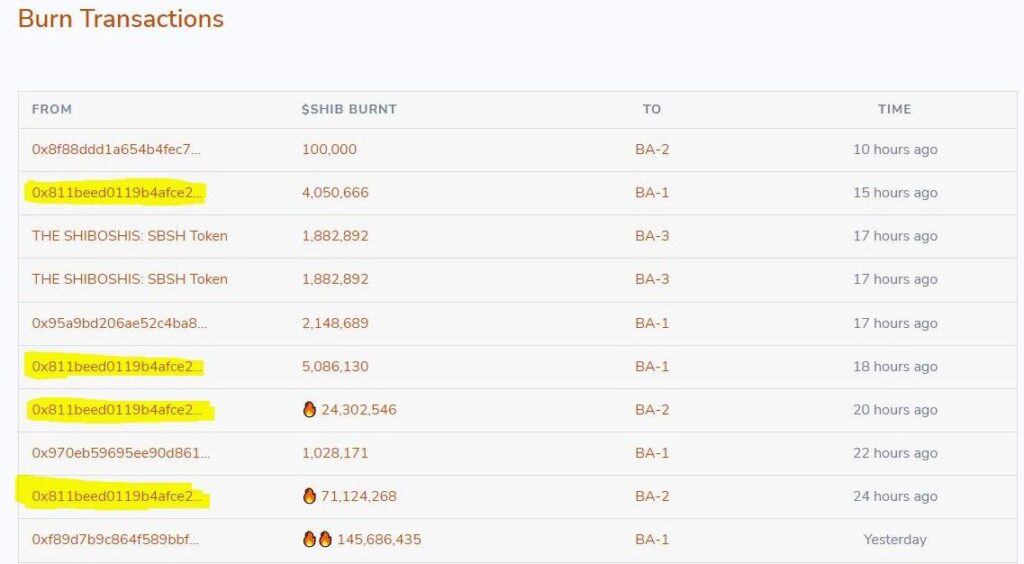 ScareCrow automatically uses the taxed amount to buy SHIB and burns whenever someone buys or sells tokens.
This unique auto-burning mechanism sent over two billion+ SHIB to the dead wallet within four weeks.
Renaming of Shiboshi:
Renaming of Shiboshi, a developer-built SHIB burning mechanism, is also held responsible for burning 3,765,784 (3.76M) SHIB through 2 separate transactions.
Current SHIB Price:
At the time of writing, the Shiba Inu is trading at the price of $0.00002278, down -6.38% over the last day. The 24-hour trading volume for the popular dog-themed cryptocurrency surged over 19% compared to the previous day and currently stands at $760,451,145.35 ($760.45M).