- Advertisement -

Massive Shiba Inu burning continues.
Over 324 million Shiba Inu (SHIB) tokens have been taken out of circulation forever within the last 24 hours. The burning rate surges 714% compared to the previous day.
As per a recent tweet from the SHIB burn tracking website, Shibburn.com, community-led initiatives have been able to burn a total of 324,040,132 (324.04M) SHIB in the past 24 hours through 9 separate transactions.
In the past 24 hours, there have been a total of 324,040,132 $SHIB tokens burned and 9 transactions. Visit https://t.co/t0eRMnyZel to view the overall total of #SHIB tokens burned, circulating supply, and more. #shibarmy

— Shibburn (@shibburn) April 13, 2022
The burn rate shows a whopping 714% over the last day when only 258,294,131 (258.29M) SHIB tokens had been burned through 11 separate transactions.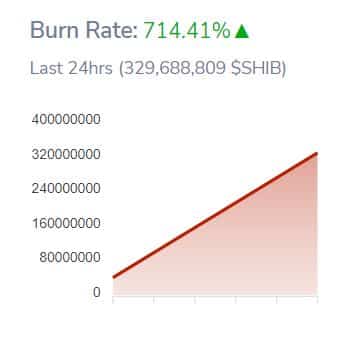 ETH SHIBA, a new token supporting SHIB burn, has acclaimed the most significant share of burning via tweet. The token organized the FLASH BURN EVENT on Tuesday (12th April 2022). Through this event, the team behind the newly emerged token has sent 300,123,501 (300.12M) SHIB to the dead wallet through one transaction.
🔥🔥🔥🔥🔥SHIB BURN COMPLETE🔥🔥🔥🔥🔥

300,123,501 $SHIB NOW BURNT by #ETHSHIB https://t.co/2JV2tt9V1G#SHIB #SHIBARMY #ETHSHIBFAM

— ETH SHIBA (@eth_shiba) April 12, 2022
The token "ETH SHIBA" came into life one month ago, and so far, the ETH SHIBA has burned more than 2 billion SHIB.
Readers should note that ETH SHIBA has no official relation with the SHIB ecosystem or its team. Only SHIB, BONE, and LEASH are part of the Shiba Inu ecosystem. Therefore, investors should research before investing in such kinds of tokens.
On the other hand, the 12th biggest ETH Whale named "BlueWhale0073" has recently made a purchase of a whopping 775,473,150,952 (775.47B) SHIB for $20,697,378 ($20.69M) through one massive transaction. The acquisition was noticed soon after Robinhood publicly declared that they have listed along with three other tokens on their platform.
Current SHIB Price:
At the time of writing, Shiba Inu is trading at the price of $0.00002707, up 18.2% over the last day, as per data provided by CoinGecko. The 24-hour trading volume for the token skyrockets over 482% and currently stands at $4,419,325,608.14. ($4.41B).