The team is confident of a mainnet launch by June 29, 2022. 
The Cardano community has been eagerly anticipating the Vasil Hard Fork launch as the upgrade is expected to introduce significant features to the blockchain.
The enhancement of Cardano will contribute to the massive adoption of the network and also cause the price of ADA, the native cryptocurrency, to soar.
Vasil Hard Fork Roadmap
In a recent YouTube update shared by Input Output Global (IOG), the organization in charge of Cardano's research and development, the team highlights a detailed roadmap for the upcoming Vasil Hard Fork event.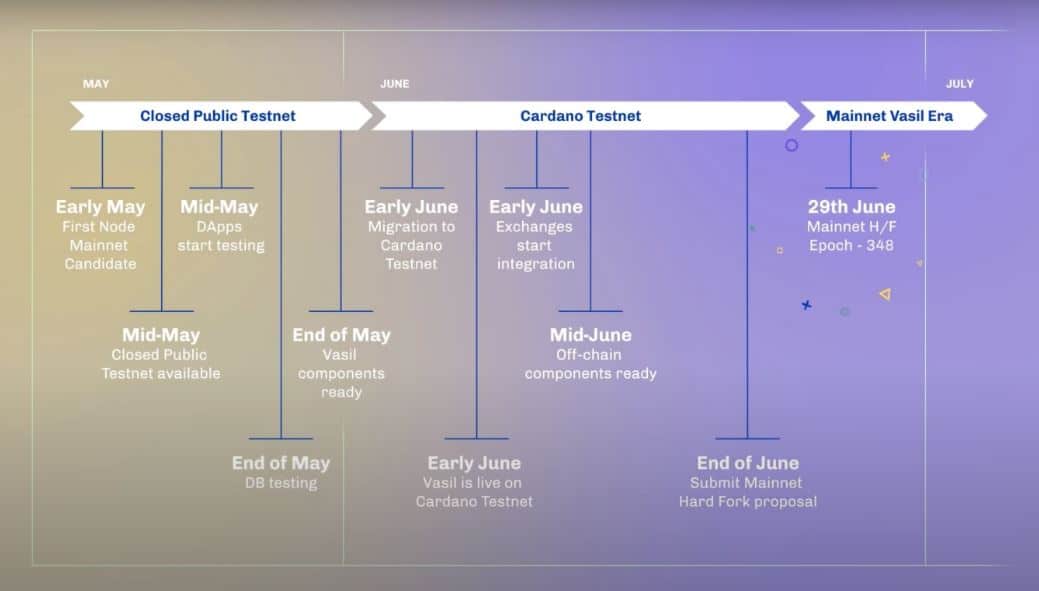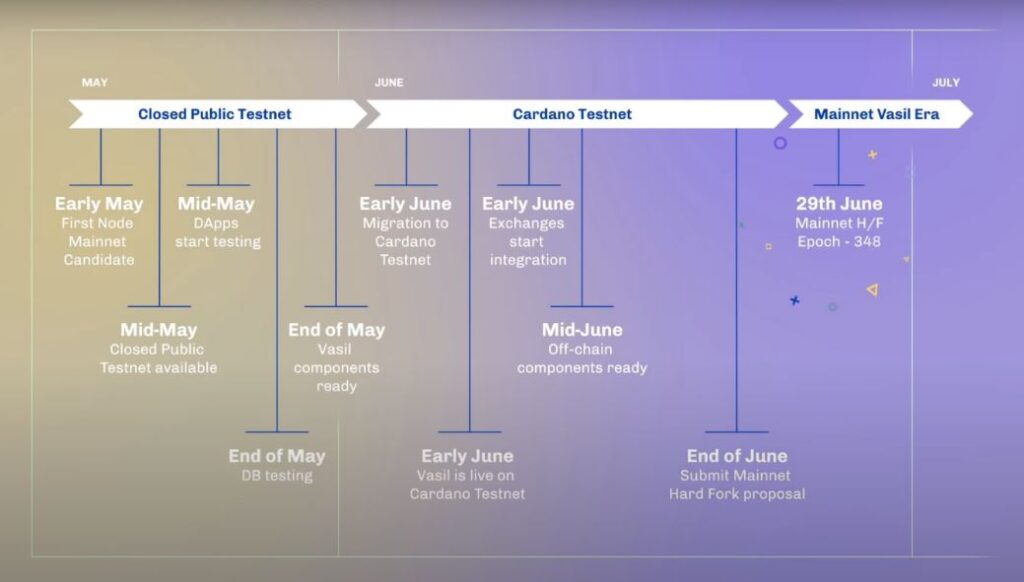 Image source: Twitter
In a six-minute video, the IOHK team noted that it is conducting the finishing touches to the upcoming upgrade, which will prepare it for a closed public testnet launch before the end of this month.
Mid May:
Closed public Testnet
Dapps Start Testing
May END:
The closed public testnet will also feature the testing of selected decentralized applications (dApps) in order to ensure that most dApps will not have hitches running on the new environment once the Hard Fork is implemented by next month.
As disclosed by the team, everything about the closed public testnet phase will end this month and it will pave room for Vasil's migration to the Cardano testnet, which is scheduled to be implemented by early June 2022.
A series of development, including exchange integration, will be made once Vasil is migrated to Cardano's testnet. By mid-June, the team noted that all off-chain components will be ready and the Hard Fork will be almost ready for a mainnet launch.
Once the team is certain that the upgrade has no issue, the Vasil Hard Fork will be executed on mainnet by June 29, 2022. The IOHK team is confident that the upgrade will not be scheduled for another date as it is 100% confident in its progress.
Early June:
Migration To CardanonTestnet
Vasil is live on Cardano testnet
Exchanges start integration
Mid-June
Off chain components ready
End Of June
Submit Mainnet hard fork proposal
Mainnet Vasil Era
Expected Features of Vasil Hard Fork
As reported, the Vasil Hard Fork is one of the biggest events of Cardano in 2022. The upgrade is expected to roll out significant enhancements to different aspects of the network, including Plutus, the smart contract platform that Charles Hoskinson, the CEO of IOG, believes will lure more developers into using the network.
He added that Cardano's total value locked (TVL) will surge tremendously once the Vasil Hard Fork is live.
Follow Us on Twitter and Facebook.
Disclaimer: This content is informational and should not be considered financial advice. The views expressed in this article may include the author's personal opinions and do not reflect The Crypto Basic's opinion. Readers are encouraged to do thorough research before making any investment decisions. The Crypto Basic is not responsible for any financial losses.
-Advertisement-