Top 100 Accounting Firm, Wolf & Company Now Accepts Shiba Inu (SHIB) as a Payment via BitPay.

Shiba Inu holders can now book a wide array of business consulting services at US Boston-based accounting firm Wolf & Company using their SHIB holdings.
Wolf & Company, one of the leading national CPA and business consulting firms, recently declared that they are now accepting Shiba Inu (SHIB) and 12 other major cryptocurrencies as a payment in exchange for their services via Bitpay.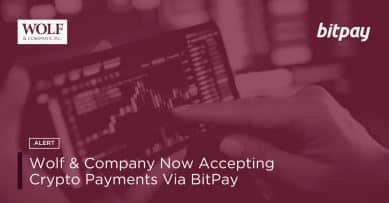 The complete list of supported cryptocurrencies includes Bitcoin (BTC), Ethereum (ETH), Shiba Inu (SHIB), Dogecoin (DOGE), USD Coin (USDC), Bitcoin Cash (BCH), Litecoin (LTC), Dai (DAI), Wrapped Bitcoin (WBTC), Gemini Dollar (GUSD), Pax Dollar (USDP), Binance USD (BUSD), and Ripple (XRP).
Crypto payments became possible as the top 100 accounting firm joined hands with a leading crypto payments processor BitPay.
The move comes after the leading business consulting firm noticed the growing adoption of cryptocurrency all around the globe. The firm also embraces the growing role of crypto in the economy. As per the official blog post, the business aims to provide various consulting services like audit, tax, compliance, cybersecurity, or smart contracts, in exchange for crypto payments.
"we're accepting cryptocurrency as payment for our services via BitPay. As a firm that embraces digital innovation, our team is already working on the cutting edge of cryptocurrency services. By partnering with BitPay to accept crypto payments, we're truly embracing crypto and its growing role in the economy."
Boston-based Wolf & Company is an established business consulting firm with more than 111 years of experience. The company comprises 312 experienced professionals that serve thousands of clients from 48 states.
For the past 3 years, Wolf & Company is recognized as one of the top 100 accounting firms by Accounting Today, Forbes also awards the company "America's Best Tax and Accounting Firms" title in 2021 and 2022.