A new job advert made by Ripple suggests that the company has opened a new office in India.  
Popular blockchain company Ripple is reportedly planning to establish a new office in the city of Bengaluru, India.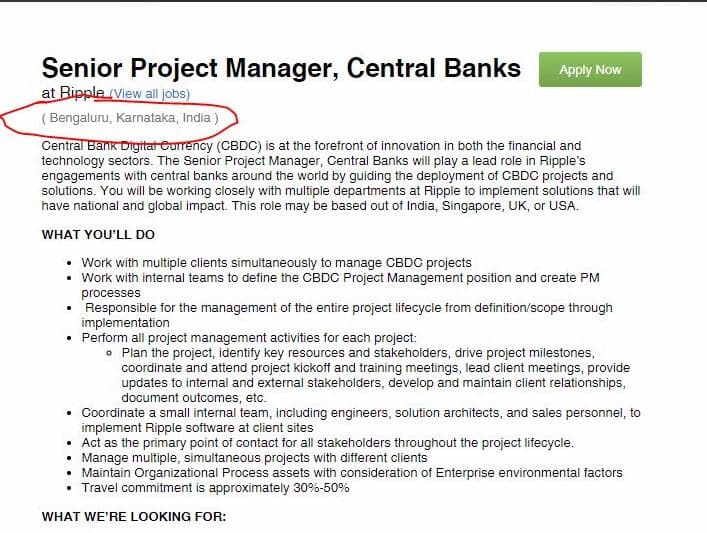 Image source: Twitter
This became known to the public after the popular blockchain company launched a new job advert for a role in the Bengaluru-based office.
According to the job advert made by the fintech company in search of a Senior Project Manager, Ripple set Bengaluru, Kemataka, India as its location in the ad, suggesting that a new Ripple regional office may have been launched in the country.
As with most job vacancies, when a job location is included in the ad, the recruiter is looking to source talent within that city.
Details of the Job Ad
An interesting development in the job advert, Ripple is looking to recruit a Senior Project Manager, Central Bank, who will be tasked with the responsibility of leading the company's engagements with various central banks.
The selected applicant will guide the deployment of various Central Bank Digital Currency (CBDC) projects.
Furthermore, even though the applicant may reside in India, he or she will work closely with other Ripple departments outside the country, in a bid to develop solutions that will have positive impacts on the global financial sector.
The job vacancy advert further adds that while the applicant could be in Bengaluru, his or her role may be "based out of  India, Singapore, United States, and the United Kingdom."
Ripple's Expansion Plans
Although Ripple is yet to comment on whether it plans to expand its operations in India, the company has been expanding its footprint to different parts of the world outside the USA, especially following its ongoing lawsuit with the Securities and Exchange Commission (SEC).
Ripple, which already has a regional office in the United Arab Emirates (UAE), was reported to be considering moving its headquarters to the United Kingdom.
The urge to move its operations outside the United States became serious as it became evident that the Securities and Exchange Commission (SEC) is poised to set an example of Ripple for allegedly breaching its securities laws.
Follow Us on Twitter and Facebook.
Disclaimer: This content is informational and should not be considered financial advice. The views expressed in this article may include the author's personal opinions and do not reflect The Crypto Basic's opinion. Readers are encouraged to do thorough research before making any investment decisions. The Crypto Basic is not responsible for any financial losses.
-Advertisement-