Do Kwon has not been touching Terra Classic (LUNC) since the launch of Terra 2.0.

Terra 2.0 went live about ten days ago. New LUNA tokens were minted on the new chain. There was a LUNA airdrop to holders of the original LUNA (Now Luna Classic) and UST.
The Terra community was focused on both LUNA and Luna Classic during all this. However, Terra's developer team, Terraform Labs, and its founder, Do Kwon, seem to have been more concerned about Terra 2.0 and the new LUNA than Luna Classic and UST.
This realization has left the community confused about whether Do Kwon has completely abandoned Luna Classic. The fact that he bull-dozed the Terra 2.0 through community governance and voting tells a lot. Even more worrying are recent reports that he may be planning to create a new Stablecoin.
Do Kwon Avoiding Talks About LUNC
A user raised this issue during a Telegram conversation with the now famous FatMan, who has been digging up critical and sometimes damaging information about Terraform Labs and Do Kwon. A Reddit post was made about it.
Do Kwon has avoided any mention of LUNC. He doesn't tweet anything about it or responds to any queries. According to the user in the conversation with FatMan, "It's as if it doesn't exist to him." The user opines that Do Kwon may be avoiding any conversations about LUNC because doing so would be like opening a can of worms.
"He wouldn't be able to disregard it again," says the user.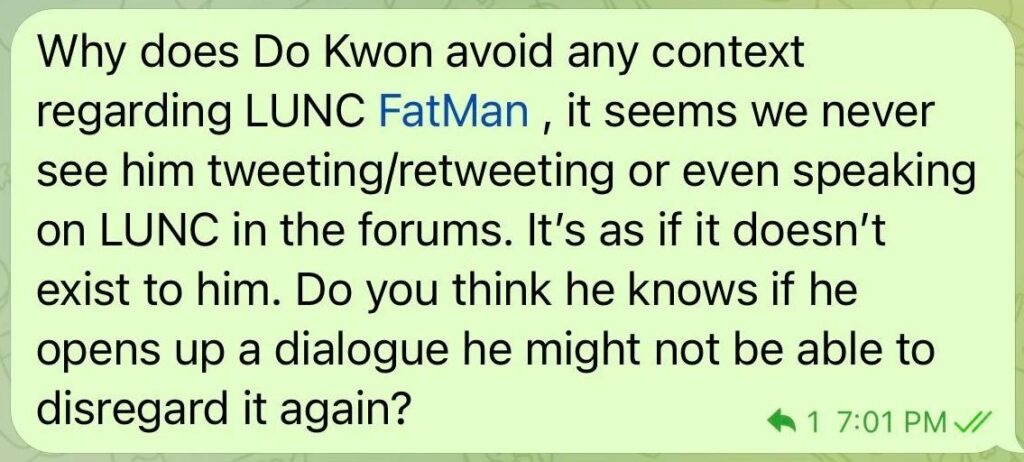 Image source: Reddit
From FatMan's Point Of View
Responding to the user, FatMan said that Terra 2.0 is meant to be a clean-up to shift people's attention to Terra 2.0 and forget about Terra 1.
This is like when Do Kwon took Chaiscan offline when the Chai money laundering incident was exposed. He shut down the blockchain explorer, and the evidence was gone. FatMan believes that Do Kwon is trying the same trick with the community. He wants to get people to concentrate on the next big thing, Terra 2.0, and forget about the losses and pains from Terra 1 and UST. He's done this before.
Fatman said:
"A part of the motivation behind Terra 2.0 is to clean up the evidence…; I believe that one of the motives for all of this is erasing Terra 1 from people's minds, so people forget the nature of the devastation that the UST/LUNA crash had on people lives…Do Kwon wants people to forget all of this.
He is trying to get people to focus on the next new things so he can shrink accountability and also want to make money; that's his primary motive as always."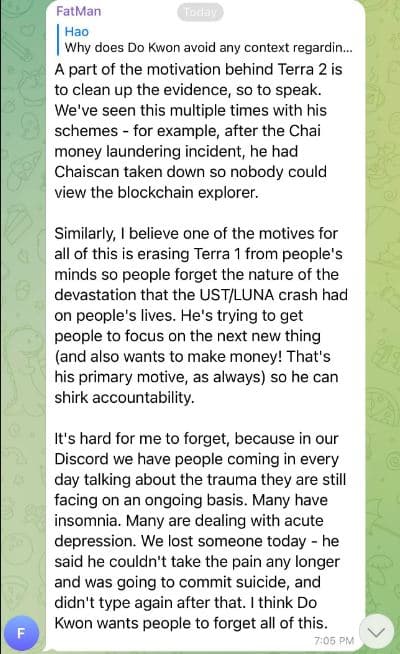 Image source: Reddit
Do Kwon Owns Terra
The post has attracted attention from crypto fans on the Terra Luna subreddit, with some suggesting that Do Kwon should be kicked out of Terra. However, others noted that Kwon owns Terraform Labs, and the company is responsible for creating and maintaining the Terra blockchain.
In this case, Terra is somewhat a centralized system controlled by one person. That's despite the provisions of community governance and voting rights. This may have been apparent when Do Kwon disregarded the community's demands to burn Luna instead of creating Terra 2.0.
No Way To Kick Him Out?
It appears that some members are serious about kicking Do Kwon out of Terra. There have been suggestions to fork Luna and create an entirely new chain fully controlled by the community. However, the new chain may not gain traction in the industry, and that's a problem.