User activity on Chainlink bolstered after the project announced plans to launch a staking program.
The number of active Chainlink (LINK) addresses have increased massively in the past week, following the introduction of the staking program for the cryptocurrency project.
According to data on popular cryptocurrency aggregator platform Messari, the number of Chainlink active addresses has surged tremendously between June 3, 2022, and June 10, 2022.
On June 3, 2022, the number of active addresses on Chainlink was around 1,582. Following the announcement of staking rewards for LINK holders, active addresses on the network continued to grow steadily, reaching nearly 2,300 in the past seven days, thus representing a 44% growth.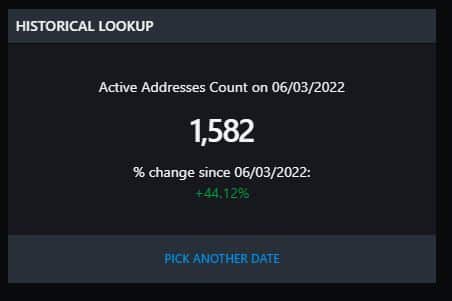 Please note that active addresses are different from holders. According to Etherscan, ChainLink has 669,109 holders.
Positive Contributions to LINK's Value
Although the number of active addresses on Chainlink is nothing compared to its highest in the past month when about 5,884 active addresses were recorded, the development is still commendable.
This is because an increase in the number of user activities on any cryptocurrency project usually bodes well for the value of the coin associated with the project.
The same thing was noticed in the price of LINK, the native cryptocurrency of Chainlink. Per data on cryptocurrency aggregator platform Coingecko, the price of one unit of LINK has surged 23.2% in the last seven days.
Within this period, LINK saw its price move from a low of 6.79 to a high of 9.46. Although the value of LINK has slumped a bit due to the current downtrend of the crypto market, the asset class's value is still fair compared to what was recorded earlier this week.
At the time of writing, LINK is changing hands at $8.85, down 4% in the last 24 hours.
Chainlink's Upcoming Staking Program
Meanwhile, Chainlink is planning to reward LINK holders with a 5% APY. The team behind the project announced this in a blog post this week, saying:
"A new era of sustainable growth and security – Chainlink Economics 2.0 – begins with staking." The initiative was launched to support the network's safety as community members will be required to engage their LINK tokens for a reward when staking is officially unveiled.
At the moment, no specific date for the project's official launch has been made; however, Chainlink is planning to launch the first version of the staking program (v0.1) in the second half of this year.