- Advertisement -

The US SEC has expanded the scope of its investigations into the Mirror Protocol to include Luna.

The legal front is getting hotter for Do Kwon and his company, TFL. While he and TFL are already under investigation in South Korea, the US SEC is still on his neck since issuing a subpoena to him back in September 2021.
Do Kwon appealed against it, saying that the SEC breached its procedures by issuing him with the subpoena personally. When the court ruled to uphold SEC's stance, Kwon ignored it and said the institution had no jurisdiction to charge him or TFL.
It's worth noting that the said subpoena was issued months before the collapse of Terra, so it didn't touch on Luna. At the time, the SEC was only concerned about the sale of UST-related securities in the US.
According to Korean 'Money Today', the SEC is revising its list of demands to include all information relating to the collapsed Luna token (which has now been renamed Luna Classic).
The September 2021 subpoena was presented to Do Kwon while he was visiting the US. The SEC moved to issue it due to his links with the Mirror Protocol. The Mirror Protocol is a DeFi platform created by Do Kwon's Terraform Labs to track Netflix and Tesla stock prices and sell their securities in UST.
According to SEC, this platform is not registered in the US, and that prompts investigations into it. Following the Luna crash, SEC is now exploring the matter as well to determine whether Do Kwon and his company violated consumer protection laws in marketing UST. Despite being a stablecoin meant to keep retain value, UST crashed along with Luna. Millions of people lost their money in the process.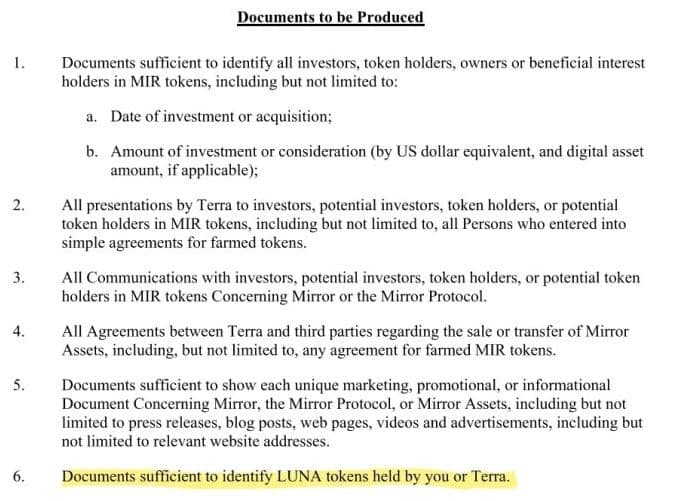 In addition to investigations into TFL's violation of the Securities Act, SEC has also added Luna-Terra, which is the new project, to the investigation. In this respect, SEC demands documents relating to the identity of LUNA tokens and their holders as well as their public keys.
The 6th point of the subpoena demands "documents sufficient to identify the LUNA tokens held by you (Do Kwon) or Terra."
Will Kwon Show Up?
Apparently, Do Kwon isn't even in South Korea when he and TFL are facing tax evasion charges and investigations relating to Terra's collapse. He's holed up in Singapore. A few weeks ago, he was summoned by the South Korean parliament to explain how Luna crashed. He didn't show up. At this point, it's relatively safe to opine that he might also not present himself to the SEC. Meanwhile, he has been trying to rev up the Terra community on Twitter.