Dogecoin (DOGE) is Still The Best Memecoin.

With BabyDOGE 41x smaller than Dogecoin, and SHIB 1.44x smaller, DOGE remains the best meme coin in terms of market valuation.
According to crypto data aggregator, CoinGecko, BabyDOGE will need at least a 1000% surge in market cap to be able to get to where its elder coin is in terms of market value.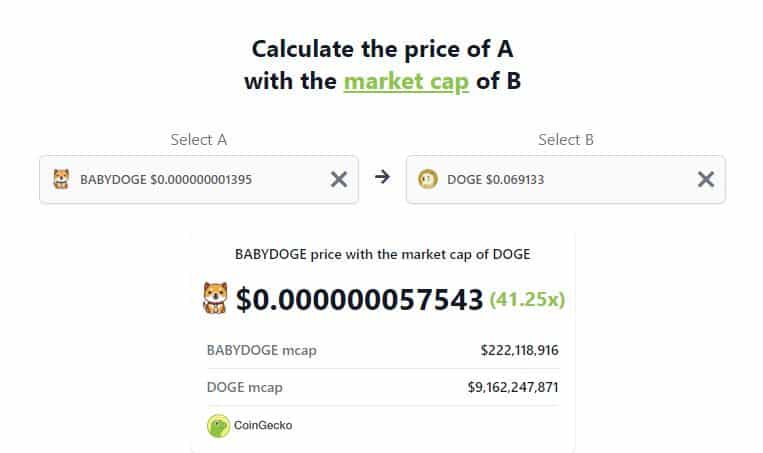 Image source: Twitter
Whereas Shiba Inu will need a surge of about 43% to reach DOGE's current market capitalization.
$SHIB will need a 43% surge to reach $DOGE's market cap!

Are you team @Shibtoken or @dogecoin? 🐕

Compare your coins 👇https://t.co/ZIrpepWPg4 pic.twitter.com/YC2QCdcPBf

— CoinGecko (@coingecko) July 8, 2022
In terms of market value, Dogecoin, the biggest meme currency, had a bad month in June. More than 22% of the cryptocurrency's value was lost in one month, from just over $0.086 to just under $0.067 at the end of the month. The headline statistic, however, hides a large degree of uncertainty. 
Dogecoin's short-and long-term outlooks are both gloomy as the month of July kicks off. The recent rejection of the 50-Day Moving Average and downtrend indicates that the cryptocurrency's near-term momentum will likely lead it back down to previous lows around $0.05. At the time of writing, DOGE is valued at $0.068999, up 0.4% in the last 24 hours and 5.3% in the past seven days. DOGE market cap is $12,671,391,976.
Shiba Inu had an erratic June. SHIB lost a little under 12 percent in November, closing at over $0.000010. Memecoin plummeted to the low $0.000007s, down roughly 40% on the month.
Long-term technicals show Shiba Inu's trend is negative, despite a near-term gain to $0.000017. Since the beginning of this year, cryptocurrency has plummeted by 70%. SHIB is now at $0.00001084, up 2.7% in 24 hours and 6.5% in 7 days. SHIB's current market value is $6,419,778,580.
BabyDOGE's third-largest meme currency by market capitalization and Dogecoin's progeny had a turbulent June. The cryptocurrency hit $0.0000000025 on 1 June and $0.0000000011 at mid-month.
BabyDoge has 1.4 million Twitter followers, 283K Instagram followers, and 200K Telegram users. This robust community shows BabyDoge might succeed among non-Dogecoin/Shiba Inu meme currencies. BabyDOGE is valued $0.000000001407, up 2% in 24 hours and down 19% in 7 days.