Notwithstanding Michael Saylor's criticism of Ethereum, the altcoin has now overtaken Bitcoin in the Options Market.

In the realm of cryptocurrencies, Bitcoin, the most valuable cryptocurrency in the world, has traditionally held the position of king. But now, as a result of Ethereum's (ETH) mind-boggling price increase and the much-anticipated transition from proof-of-work (PoW) to proof-of-stake (PoS), supporters of the cryptocurrency—which ranks second in terms of market value—are resurrecting predictions that it is destined to one day take over the kingdom. 
It would seem that their efforts have not been in vain, as Ethereum (ETH) has now surpassed the leader of the industry, Bitcoin (BTC), in the options market for the very first time in recorded history. In comparison, Bitcoin only has a 90 percent stake in the OI Market, whereas Ethereum has 97 percent.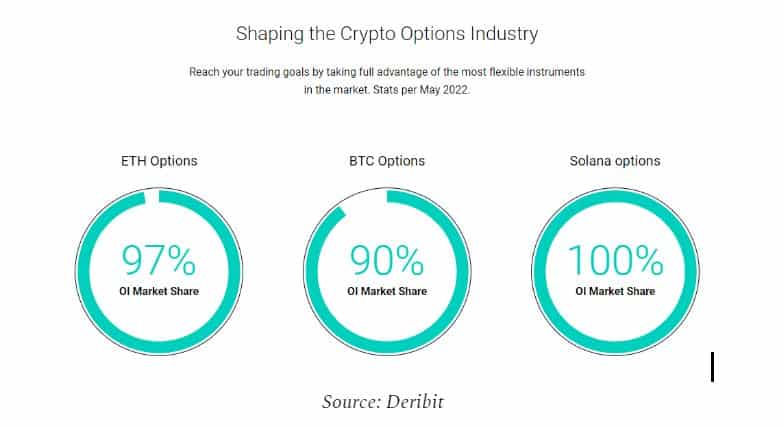 Source: Deribit
According to Deribit's stats at the time of this writing: $5.7 billion in open Ethereum options contracts, compared to $4.3 billion in Bitcoin.
Michael Saylor's Criticism of Altcoins
A video of MicroStrategy CEO Michael Saylor making not-so-positive comments about alternative cryptocurrencies (altcoins) went viral.
In the video in question, in addition to insinuating that all other cryptocurrencies are securities, Saylor indicated that all the real talent is working in the Bitcoin ecosystem. This statement was made in conjunction with Saylor's earlier statement. "If you're honest, ethical, and competent, you would be building on the Lightning Network," the head of MicroStrategy continued.
The video attracted the attention of Vitalik Buterin, the inventor of Ethereum, who then blatantly mocked Saylor by referring to him as a clown. "Why is it that maximalists always choose heroes who turn out to be total clowns?" Buterin sent out a tweet.
Follow Us on Twitter and Facebook.
Disclaimer: This content is informational and should not be considered financial advice. The views expressed in this article may include the author's personal opinions and do not reflect The Crypto Basic's opinion. Readers are encouraged to do thorough research before making any investment decisions. The Crypto Basic is not responsible for any financial losses.
-Advertisement-