ETH 2.0 Deposit Contract Reaches New Highs As Investors Anticipate Ethereum Merge.

The number of ETH locked in Ethereum 2.0 deposit contract has hit 13.34 million.
With Ethereum's mainnet Merge just around the corner, the number of ETH locked in the Ethereum 2.0 staking contract has reached a new high. 
According to data from OKLink, the total number of ETH deposited in the Ethereum 2.0 staking contract marked a new all-time high of 13,340,584 (13.34 million) ETH. At the time of writing this line, the assets were worth $21.3 billion. 
ETH Deposits Spike This Month 
The number of ETH staked in the contract has continued to skyrocket since the beginning of this month as Ethereum approaches the long-awaited Merge upgrade. 
Per OKLink data, nearly 36,000 ETHs have been added weekly since the beginning of August, which brings the total number of coins stakes this month to 153,000 ETH, worth $244.34 million at the current exchange rate. 
Notably, the growing number of depositors and ETH balances suggest that investors are bullish about Ethereum and have positive expectations about the project. 
Surging Volume of ETH 2.0 Deposits
Recall that the ETH 2.0 staking contract was launched in November 2020, and since then, the number of Ethereum coins deposited has been growing rapidly.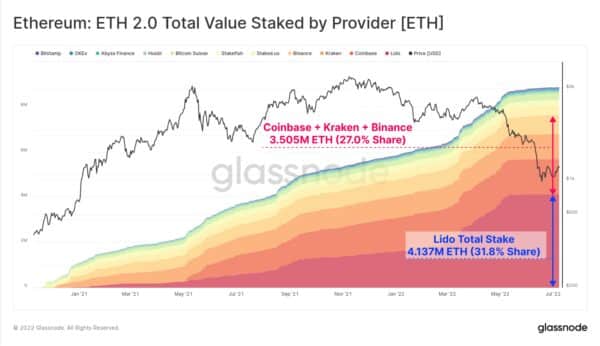 Last month, cryptocurrency data analytics provider Glassnode stated that Lido, a non-custodial liquid staking protocol for Solana, has the largest amount of staked ETH. According to Glassnode, Lido's amount of staked ETH accounts for 31.8% of the total amount locked.  
Merge Upgrade Edge Closer
In the meantime, Ethereum is closer to its transition from a Proof-of-Work (PoW) consensus algorithm to a Proof-of-Stake (PoS) in an upgrade dubbed The Merge. 
Per Terrence Tsao, an Ethereum protocol developer, The Merge may occur before September 19, 2022. However, Tsao noted that there is a likelihood that the date may change at the last minute due to unforeseen circumstances.