- Advertisement -

Santiment Shares Similar Trends Between Terra Luna Classic (LUNC) and Dogecoin (DOGE).
Terra Classic Luna (LUNC) has been in the news lately for its meteoric rise from the ashes. Recall that the coin suffered one of the biggest collapses since the inception of crypto after the Terra stablecoin USTC lost its peg to the dollar. 
Things worsened after it became known that TerraForm Labs (TFL) would launch a new token and blockchain as part of an effort to compensate investors for their losses. 
However, supporters of the project refused to give up on the Terra Classic tokens as they embarked on various initiatives to revive the coins from the ashes. Both LUNC and USTC have recorded remarkable growth so far, with the former soaring over 265.8% in one month, according to data on Coingecko. 
Similarities Between Dogecoin and LUNC
With LUNC pushing itself into the limelight again, leading cryptocurrency analytics provider Santiment, has spotted a similar pattern in the coin to what happened with Dogecoin (DOGE) during its massive spike last year. 
The images below illustrate a similar structure in the current price and volume of Luna Classic with that of Dogecoin a year ago.
According to Santiment, both Luna Classic and Dogecoin enjoyed an initial run-up before encountering flat consolidation. After that, cryptocurrency assets had massive rallies starting the main craze.
The social indicators of santiment show a similar picture: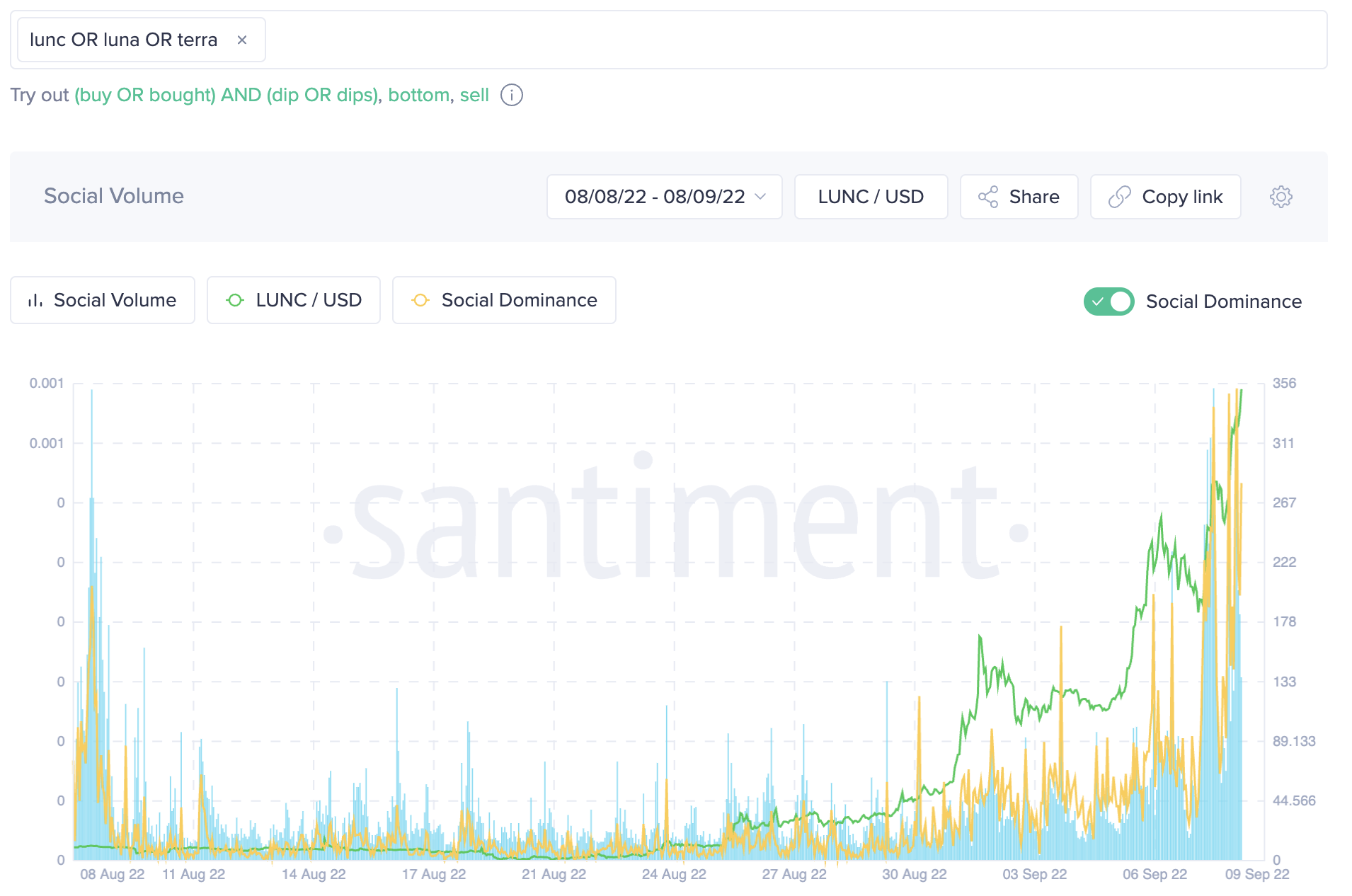 Notably, it is not surprising to see a surge in LUNC price because some related keywords of the cryptocurrency are currently ranked in the first and eighth position of Santiment's social trends, which is another indication of huge public attention.
Santiment concluded:
"If next, we see a crash in LUNC to around $0.25 per 1000, followed by the last leg up above $0.8, then we can safely say that the crypto crowd truly never learns anything from the past, and it's only a matter of time until a carbon copy of today's event happens again,"
While Dogecoin did not encounter any of the controversies LUNC suffered, the value of the cryptocurrency has dipped massively from its all-time high of $0.73, Coingecko data shows. At the time of writing, DOGE is trading at $0.064, while LUNC is changing hands at around $0.00035768.