- Advertisement -

Unprecedented monsoon rains have slammed Pakistan, flooding a third of the nation.
The floods have impacted over 33 million people, wrecked almost 2 million houses and businesses, washed away 7,000 kilometers (4,300 miles) of highways, and ruined 500 bridges.
The most affected area of Pakistan was Swat, also called Mini Switzerland. In the affected areas of Swat, there are no basic facilities like good roads, electricity and internet, disconnecting them from the rest of the country. The markets, the villages and even homes were severely affected and destroyed.
Unicef reports that approximately 16 million children have been affected by the devastating rains, floods and landslides. So far, as many as 7 million people have been temporarily displaced.
World-leading cryptocurrency trading platform LBank recently took their humanitarian efforts to the communities in Pakistan. The crypto exchange made donations to different villages and visited some of the affected people.
Responding to the call for donations, the LBank Pakistan team took the initiative to support the affected families, delivering immediate emergency relief supplies and services to the communities.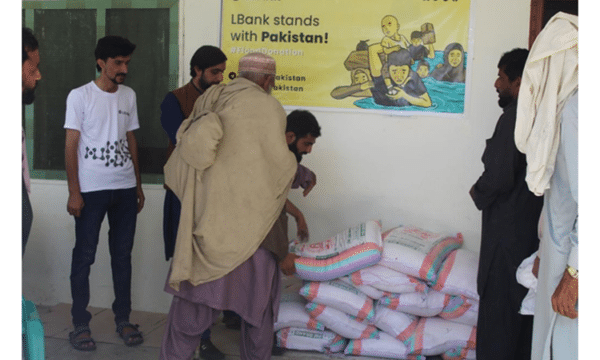 The exchange's Chief Executive Officer, Allen Wei, empathized with Pakistan. "LBank stands with Pakistan at this terrible time. Our thoughts and prayers are with those that lost their loved ones, the many displaced families and those affected."
Allen Wei also urged individuals and organizations to step up and donate generously to the Pakistan people. He encouraged them to contribute in every way that they can and lend a helping hand to accelerate flood relief efforts in Pakistan.