- Advertisement -

Another 61.16 Million Shiba Inu (SHIB) were Wiped Out of Circulation in the Past 24 Hours, 45.80 Million in Two Transactions.

Shiba Inu Community destroyed another 61.16 Million SHIB in the past 24 hours. Two mysterious wallets turned 45.80 Million SHIB to ashes in two separate transactions. SHIB Burn Rate surges 99.35% over the last day.
Despite Bearish Market conditions, the Community-led Burn Initiatives are still committed to reducing the gigantic supply of Shiba Inu (SHIB).
Shibburn.com, the first SHIB dedicated SHIB Burn Project, recently reported that the SHIB Army has reduced another 61,169,479 (61.16M) SHIB from circulation.
In the past 24 hours, there have been a total of 61,169,479 $SHIB tokens burned and 13 transactions. Visit https://t.co/t0eRMnyZel to view the overall total of #SHIB tokens burned, circulating supply, and more. #shibarmy

— Shibburn (@shibburn) September 28, 2022
Two mysterious wallets added fuel to the fire and spiked the SHIB Burn Rate by sending 45.80 Million Shiba Inu to the dead wallet in two separate transactions.
As per Shibburn.com report, the day's biggest burn occurred about 17 hours ago. One of the mysterious wallets burned 21,464,117 (21.46M) SHIB in one transaction. A few moments later, another mysterious significant burn transaction came from a separate wallet through which 24,336,644 (24.33M) SHIB were permanently destroyed.
As a result of this massive burn, the Shiba Inu Burn rate surges 99.35% over the last day.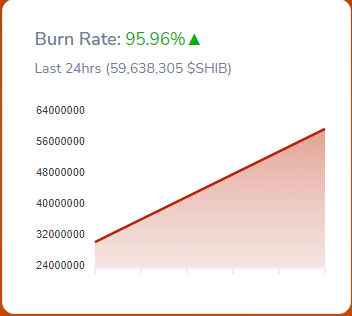 The world's most popular canine-themed cryptocurrency, Shiba Inu, struggles to find support due to the widespread selloff in the global crypto market. Even the positive developments in the ecosystem, including the potential launch of Shiba Inu Collectible Card Games, dubbed "Shiba Eternity," don't seem to aid in healing the wounds.
At the time of writing, Shiba Inu is trading at the price of $0.00001097, down -3.95% over the last day, with a 24-hour trading volume of $264,237,026 ($264.23M). On the other hand, the global cryptocurrency market cap currently stands at $916.82 Billion, down -5.79% over the last day with a 24-hour trading volume of $90.39 Billion.