- Advertisement -

XRP adoption rises as investor sentiment remains positive.

Data from XRP validator Rich-List.Info shows that the number of XRP wallets has surpassed the 4 million mark, now sitting at 4,311,415 (4.31M).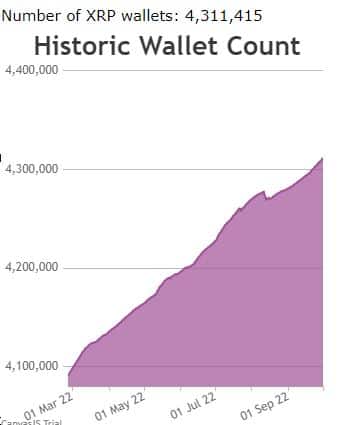 The growth comes as users believe that the end to the drawn-out legal battle between Ripple and the US Securities and Exchange Commission (SEC) is coming close. Notably, both parties in September have already filed their motions for summary judgment, with XRP holders expecting a victory for the blockchain company.
Moreover, in the last couple of days, more and more enterprises are pledging support for Ripple. For example, as reported by The Crypto Basic on Friday, Philippines-based remittance company I-Remit has requested to file an amicus brief in support of Ripple. Additionally, on the same day, Ripple advocate and former federal prosecutor James K. Filan disclosed on Twitter that TapJets, a private jet charter firm, had also done the same.
As reported on Thursday, Ripple scored another victory in the ongoing lawsuit as Judge Analisa Torres overruled the SEC's objection to Judge Sarah Netburn's ruling ordering the SEC to submit documents related to the draft of the controversial William Hinman speech in 2018.
It bears mentioning that court proceedings are not the only positives XRP. After a year of delay, Flare Network has finally confirmed a timeline for its token distribution to XRP holders. Notably, the token distribution is slated between October and November.
On Friday, Lunar Crush ranked the token as the number one altcoin over nearly 4000 others based on social engagement and price action. Last Tuesday, The Crypto Basic reported that XRP looked to be in a similar price position to 2017 and may be set for a 790% price surge.
At press time, XRP is trading at the $0.4741 price point, 2.99% lower in the last 24 hours.