- Advertisement -

This week, all decentralized finance (DeFi) projects on the Cardano blockchain have not had a smooth ride.

According to Cardano Daily, a Twitter-based media outlet that covers developments on the Cardano network, DeFi projects on the blockchain have suffered losses ranging from 5% to 30%.
"CARDANO TVL STATUS: The TVL of Cardano has experienced one of the hardest weeks with regard to TVL. All projects witnessed loss in TVL, varying from 5% up to 30% loss," Cardano Daily tweeted.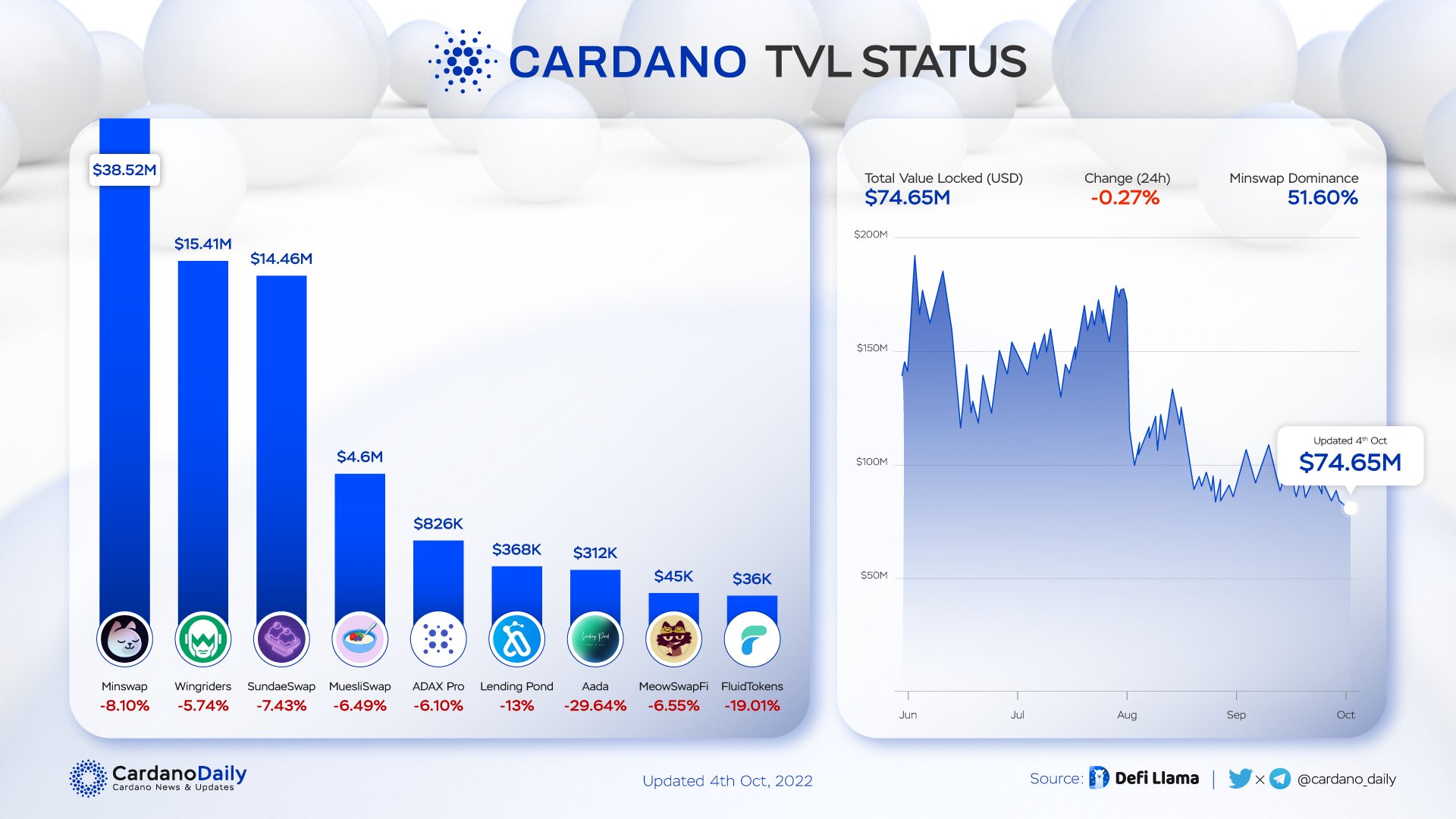 Out of the nine decentralized finance projects analyzed by Cardano Daily, Aada Finance experienced the maximum loss compared to other DeFi protocols. Per the data, 29.64% value has evaporated from Aada Finance this week. This unfortunate development plunged the total value locked in Aada Finance to $312,000.
The second protocol that witnessed the most losses was FluidTokens, which saw 19.01% worth of value withdrawn from the project. Minswap, SundaeSwap, and MeoSwapFi recorded losses in their TVL of up to 8.1%, 7.43%, and 6.55%, respectively.
Furthermore, the total value locked in MueliSwap and ADAX Pro also plunged by 6.49% and 6.1%, respectively.
WingRiders was the least affected project among all Cardano DeFi protocols that started the week at a loss. Cardano Daily data shows that the popular decentralized exchange only incurred 5.74% losses in its total value locked.
"wingriderscom witnessed the minimum loss in comparison to the ecosystem. Only 5.74% withdrew from the project," Aada Finance said.
Cardano TVL Performance
Meanwhile, the overall Cardano TVL is worth $74.65 million, down 0.27% in the last 24 hours. Minswap is ranked as the most valuable DeFi protocol on the Cardano network, with a 51.60% dominance ($38.52 million). WingRiders is the second-largest Cardano decentralized finance project, with a $15.41 million value locked on the platform.