Ripple's confidence is soaring with the SEC's release of the Hinman documents, strengthening hopes in its fair notice defense.
Pro Ripple Attorney Jeremy Hogan has described the Tweet from Brad Garlinghouse on October 20 as "a declaration of war."
Hogan said this in a YouTube video released less than 24 hours ago on his Legal Briefs channel, with over 150,000 subscribers. According to Hogan, as history tells us, declarations of war tend to come from a position of strength.
"You can say that Garlinghouse's tweet was a declaration of war and declarations of war…as history tells us, are always made from places of strength," Hogan said in the video.
As reported by The Crypto Basic on Friday, Ripple CEO Brad Garlinghouse asserted in a Thursday tweet that the SEC does not care about disclosure, transparency, or clarity, despite lip service to the contrary. According to Brad, SEC's shameless behavior would shock everyone when the truth came out.
The Ripple executive said this as a follow-up to Ripple General Counsel Stuart Alderoty announcing that the US Securities and Exchange Commission had finally handed over the Hinman documents. 
The Hinman documents, which cover emails and other documents related to the draft of a controversial speech by William Hinman, the SEC director of Corporate Affairs, in 2018, have been a major point of contention in the almost 2-year long legal battle. In the speech, Hinman asserts that Bitcoin and Ethereum are not securities.
Notably, Ripple has fought to gain access to the drafts to use them to support its fair notice defense. However, the US SEC has resisted efforts to do so till now, arguing that the draft documents are protected under attorney-client privilege while asserting that Hinman's statements did not represent the view of the regulator.
It is worth noting that the Hinman documents have been sealed at the request of the SEC. However, from an excerpt of Ripple's reply brief, it is inferred that the SEC hoped Hinman's statements would mislead industry participants. Notably, Garlinghouse, in his tweet, had asserted that the regulator had acted shamefully.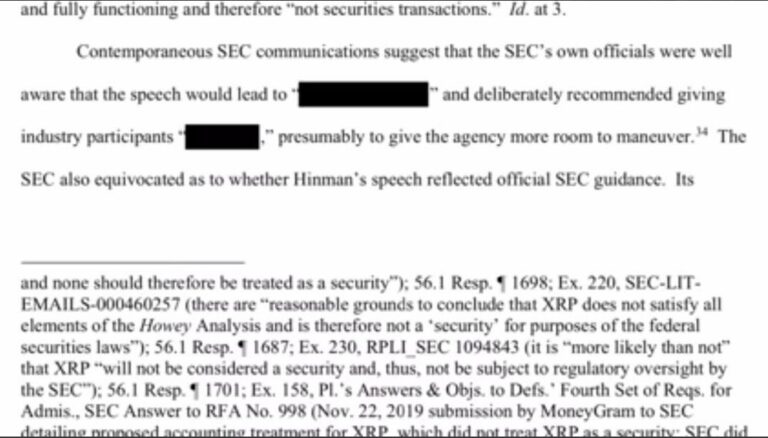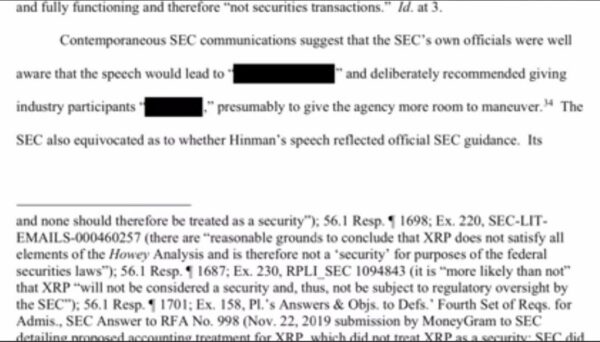 According to Hogan, the public can expect access to these documents in December at the earliest.
As highlighted by Hogan, the documents are not enough to prove that XRP is not a security, but it is relevant to Ripple's fair notice defense. However, Ripple is hoping to win the case on these grounds.
Notably, Ripple wants its fair notice defense to be heard in a trial so that it can get a jury decision as opposed to a ruling from the judge. Hogan highlights this from a recent Ripple brief.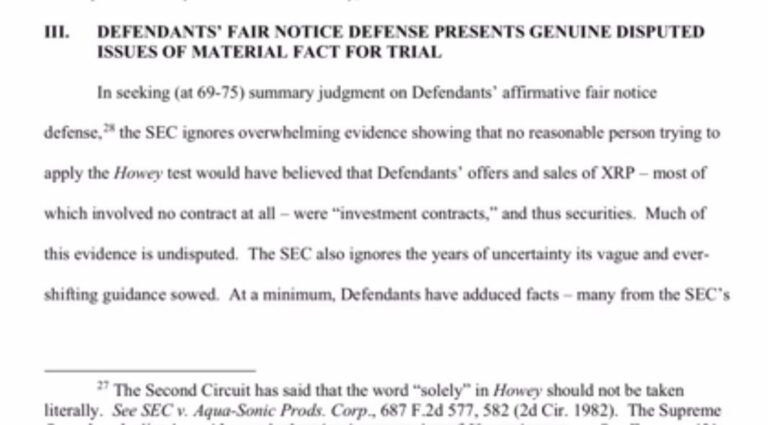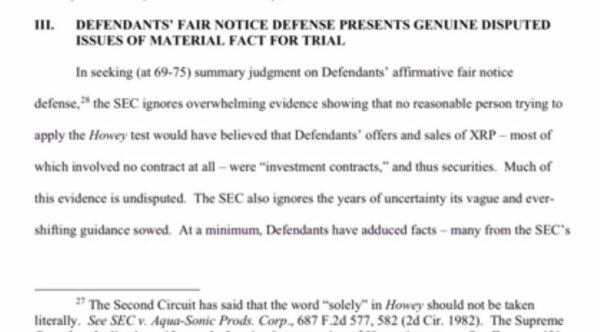 It bears mentioning that Garlinghouse's latest tweet has received a nod from Elon Musk, who is also engaged in a skirmish with the SEC. Per statements from Garlinghouse earlier this month, a decision on the case is expected in the first half of 2023.
Follow Us on Twitter and Facebook.
Disclaimer: This content is informational and should not be considered financial advice. The views expressed in this article may include the author's personal opinions and do not reflect The Crypto Basic's opinion. Readers are encouraged to do thorough research before making any investment decisions. The Crypto Basic is not responsible for any financial losses.
-Advertisement-