Gafatoken is a multilayered project launched in 2021 that aims to shape the gaming experience by utilizing decentralized applications and upholding true ownership of in-game digital assets. The project encompasses multiple aspects: the creation of its native token, Gafa token (GAFA), the development of a multi-functional API that can be integrated with any system in order to make the payment system easier, and the birth of its P2E game, Gafala, which will synergistically interact with the rest of Gafatoken's project ecosystem. Beyond this, Gafatoken plans to establish an open world called GafaVerse as well as produce interoperable NFTs.
Gafatoken's native token, GAFA, is at the heart of this project's operations. GAFAs are the main currency of the project's platform. The Gafa tokens are used to breed and create characters in the Gafala gaming universe. Players are rewarded with GAFA tokens for  their engagement and enjoyment of the game. Beyond this, GAFAs can be utilized for trading and purchasing purposes in both the GafaVerse and the in-house NFT marketplace.
Gafatoken aims to create an ecosystem where developers, players, and collectors from around the globe can come together in one world, interact, exchange assets, and ultimately have fun.
GAFA Token Overview
Token name: GAFA
Total supply: 1,000,000,000
Total circulation: 403,000,000
Coinstore.com Listing
Trading pair: GAFA/USDT
Trade time: 2022/24/10 20:00(UTC+8)
Withdrawal time: 2022/24/10 20:00(UTC+8)
What are the utilities of the GAFA token?
The Gafa token (GAFA) is the main currency of the Gafatoken's project and all its endeavours.
GAFA is used to breed characters to play in-game within the Gafala gaming universe or to be traded in the in-house NFT marketplace.
Players earn Gafa tokens in the Gafala gaming universe.
Furthermore, players are rewarded with Gafa tokens based on how active their characters are. The more they play, the more tokens they earn.
GAFA is the main rewards currency for the GafaVerse.
GAFA can be traded on DeFi platforms and can be traded to USDT at any time.
What are the four pillars of the Gafatoken ecosystem?
Gafala Game – Gafala is an outer-planetary 3D mining game with infinitely customizable  characters, set in a world where players can get true ownership of any assets that they've acquired in the game. Players are also rewarded with Gafa tokens for their engagement and dedication to the Gafala game.
gafaNFT – Mint NFT collectibles will be available and can be traded in the in-house NFT marketplace. With a focus on NFT interoperability, NFT assets can be used in multiple games at the same time. The very first edition of NFT characters from the Gafala game will hold exceptional value and will be scarce.
gafaAPI – Gafatoken is developing a new Application Programming Interface to be integrated with any preferred system in order to make the payment system easier. Moreover, this new and innovative API will make any game or system interact with the blockchain.
gafaVerse – To be developed soon, the GafaVerse is a cross platform that can be enjoyed on all devices around the world. Whether it's creating content or enjoying others' creation, the GafaVerse will reward players, developers, and collectors for their engagement and their enjoyment.
GAFATOKEN Roadmap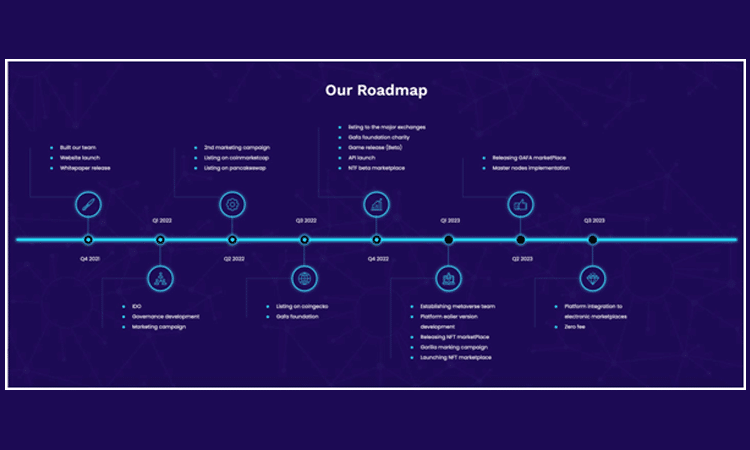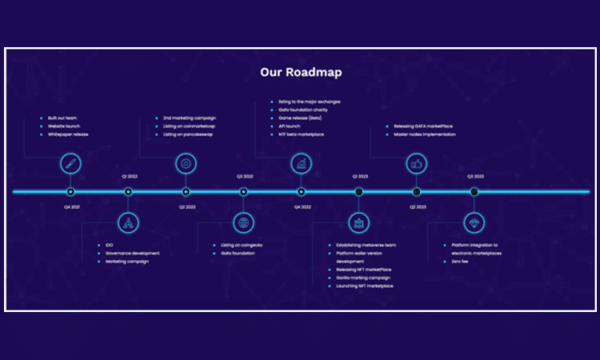 GAFATOKEN Official Media
Website | Twitter (@gafaExperience) | Telegram
About Coinstore.com
Founded in 2020 by well-experienced Fintech professionals from some of the most renowned crypto exchanges, Coinstore.com has amassed over 180 employees worldwide, serving more than 1.5M registered users in 175 countries. Coinstore.com provides global users with speedy, smooth, and secure cryptocurrency trading services, derivative business, OTC services, and NFT services.
As a leading global provider of financial infrastructure and technology in the field of crypto economy, Coinstore.com aims to become the "next Coinbase" in Asia, Latin America, and Africa.
Coinstore.com Media Contact
Song Yuchen, Marketing Director | [email protected]
Bommi Hua, Marketing Manager | [email protected]
Jennifer Lu, Co-founder | [email protected]
Coinstore.com Social Media
Website | Twitter | Discord | Telegram Discussion Group
Instagram | Youtube | TikTok | Facebook | Medium
Follow Us on Twitter and Facebook.
Disclaimer: This content is informational and should not be considered financial advice. The views expressed in this article may include the author's personal opinions and do not reflect The Crypto Basic's opinion. Readers are encouraged to do thorough research before making any investment decisions. The Crypto Basic is not responsible for any financial losses.
-Advertisement-