- Advertisement -

Ripple launches "crypto means business" ad campaign.

Leading provider of crypto enterprise solutions, Ripple has developed its latest campaign, "#cryptomeansbusiness" to showcase its crypto business solutions.
The campaign is geared towards spreading awareness about how finance professionals and business owners can use crypto solutions to drive a more dynamic financial system that better serves their business; "from streamlining cross-border payments and improving treasury management, to making assets more agile, offering new financial services, and increasing customer engagement," said Ripple in the official press release.
Banners can be seen when passing through canary wharf, which depicts "the financial center of a city in transformation, inspired by the impact that Ripple's customers can make when leveraging our solutions to transform the world of finance," according to global creative company Iris Worldwide.
Notably, the Managing director of Ripple's European division, Sendi Young shared a photo on Twitter to trigger myriads of comments in support of the campaign, commenting; "We launched it to highlight that #crypto solutions are here to stay and are already making a real impact on businesses around the world."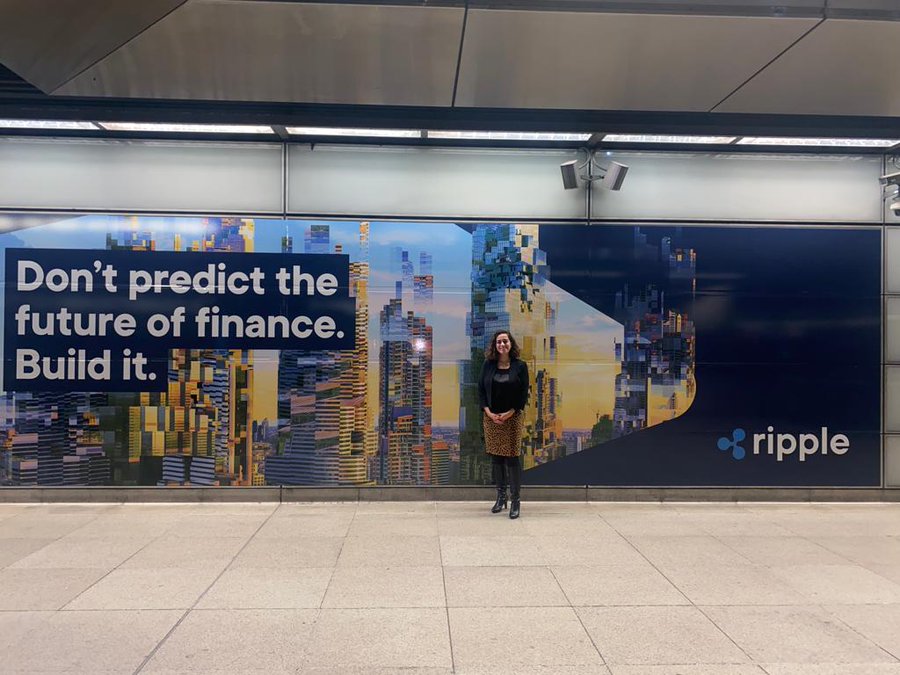 "I can't wait to be in London and see this station in person! Love this ad bringing to life our builder DNA and commitment to make finance work smarter and harder for more people. #CryptoMeansBusiness" said VP of Design at Ripple.
While another user echoed the campaign slogan; "Don't predict the future of finance; build it."
As earlier reported by The Crypto Basic, the Ripple camp has expressed confidence in securing victory after finally receiving the controversial speech by former SEC director William Hinman.
With the legal tussle against the SEC almost behind the enterprise solutions provider, the focus can now be shifted to onboarding and adoption.