Hoskinson believes that Ethereum combines the qualities of Hotel California and The Shining.

In a tweet hours ago, Cardano creator Charles Hoskinson doubled down on his description of Ethereum as the Hotel California of Crypto while adding that the chain bore similar qualities to The Shining.
"Ethereum now has a two-for-one: Hotel California and the Shining," Hoskinson tweeted.
Hoskinson's comments come in response to a graphic representation of censoring blocks on the Ethereum chain post-Merge, which shows that most blocks produced have complied with the US sanctions unit, the Office of Foreign Assets Control (OFAC). Consequently, raising fears about Ethereum censorship. It bears mentioning that @takenstheorem produced the image on October 15.
Ethereum now has a two for one: Hotel California and the Shining https://t.co/O5X0gXAkuZ pic.twitter.com/27WY5BcpLo

— Charles Hoskinson (@IOHK_Charles) November 11, 2022
The trend comes with the increased use of mev-boost, a service that allows validators to outsource block production to increase APR. Notably, the increased usage comes with increased block proposers due to Ethereum's transition to proof-of-stake (The Merge).
It allows validators to decide the relays, effectively the block-producing service they want to use. However, out of the seven relays available, only three are non-OFAC compliant, according to mevwatch.info. While the community wants validators to pick non-OFAC-compliant relays to keep the chain neutral, the rising trend indicates that the OFAC-compliant relays are currently more profitable. Consequently, it incentivizes validators to censor the chain.
The Shining is a popular horror movie released in 1980 based on a Stephen King novel that tracks the story of a family in an isolated hotel with strong supernatural forces. Despite being a horror movie, analysts have often pointed out consistent themes of subjugation.
For example, film writer John Capo believes the movie puts American Imperialism in focus, which could indicate why Hoskinson references it in this particular instance.
Hoskinson explaining the graphic asserts that the US government decides who uses Ethereum. However, this assertion may only be technically correct if these validators refuse to build on non-OFAC-compliant blocks. So long as at least one validator remains neutral, the chain can still process non-OFAC-compliant transactions so long as validators build on the blocks containing them.
At the time @takenstheorem created the graphic, OFAC-compliant relays produced about 51% of the blocks post-Merge. Notably, this metric has increased to 63%, as per data from mevwatch.info. 
Measuring the last 24 hours alone, it is at 70%. At 100%, the chain will become fully OFAC compliant. The graphic image below represents the previous 100 blocks produced at press time. 88% were OFAC compliant.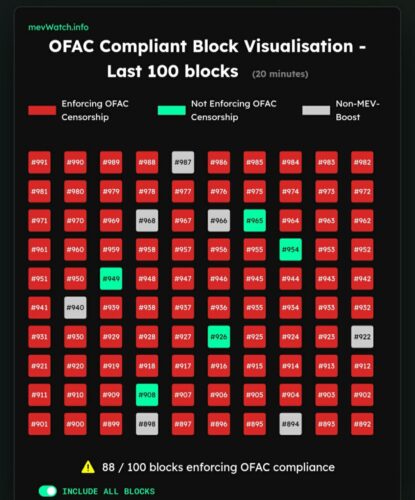 As a result of these concerns, developers have added a new phase to the Ethereum roadmap called "The Scourge," as reported by The Crypto Basic. As explained by Vitalik Buterin, this new phase will fix mev-boost concerns and make the chain more neutral.
Notably, Cardano lovers have been having a field day criticizing the current state of Ethereum's PoS implementation. For example, in response to Hoskinson's tweet today, one user described it as a "trial run at a CBDC."