- Advertisement -

Cardano (ADA) is gearing up for a major trend reversal.
Cardano has underperformed the market average in 2022, frustrating believers.
📊 #Cardano has had a rollercoaster of a ride in 2022, mainly frustrating loyal followers of the #8 market cap asset. Our latest user submitted insight touches on how whale behavior, realized profits/losses, & social volume will factor into $ADA's future. https://t.co/PnEyPj3uLI pic.twitter.com/sKYnIMmaro

— Santiment (@santimentfeed) November 11, 2022
Santiment, the market intelligence platform for analyzing on-chain metrics, shared a data-driven insight on Twitter to lift investor spirit using whale behavior; the network realized profit and loss, volume gaps, and social volume as metrics to ascertain momentum changes.
According to the data-focused insight, whales have been offloading 600M ADA since May, although they seem to be actively trading any change in direction.
Using Network Realized Profit/Loss divided by actual price, the article asserts capitulation owing to similarities with the bottom formation in March after the crash of 2020. "Capitulation" is used when a price bottom is assumed to be within touching distance, just like in March 2020.
Cardano (ADA) has slowly grown into a strong community, an argument further supported by a positive social volume. This metric assesses the positive sentiment associated with a token on social media.
It bears mentioning that "ADA seems to be a popular coin with strong believers. We haven't seen any hate and/or indifference for ADA yet." shared in the release.
The on-chain and social analysis tool also mentioned the likelihood of a trend reversal for the eight largest assets by market capitalization, citing "volume gaps especially around 0.19-0.24" price point.
"… This means that new blood may enter once the gaps are filled and increase chances of reversal."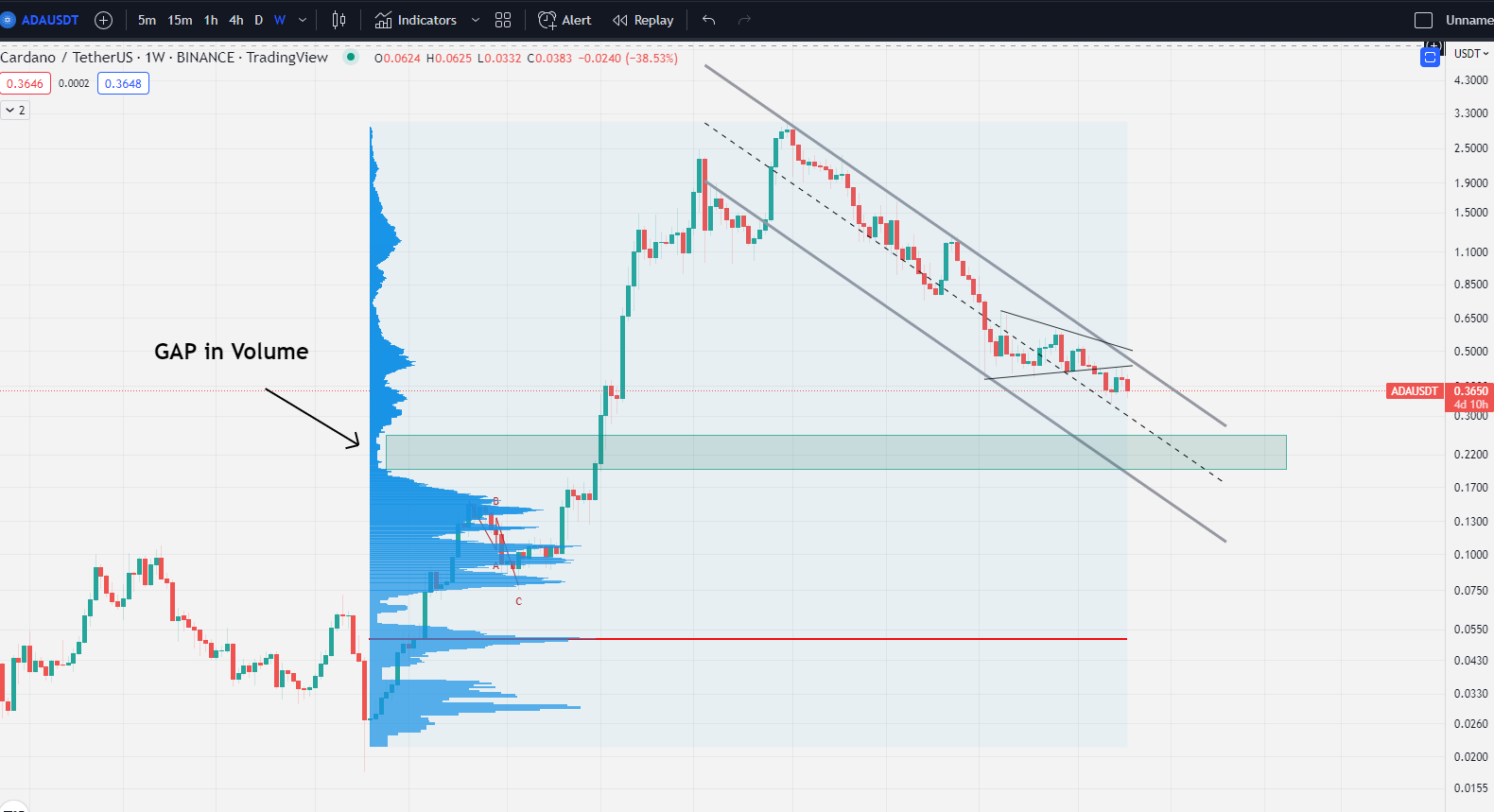 For the uninitiated, volume gaps, like the one shared by Santiment, means that strong institutional buying of the asset could send prices higher in the weeks and months to come.
It's been a noteworthy week for digital assets, and with investors flailing arms in response to the FTX's insolvency, as previously reported by the Cryptobasic, there might be more downside, at least in the short term.
At press time, Cardano's price is $0.361008 with a 24-hour trading volume of $824,354,407. ADA price is up 3.3% in the last 24 hours, according to Coingecko.