FTX Japan released a breakdown of user assets on the exchange, asserting that its reserves are larger than user deposits.
FTX Japan shared a breakdown of user assets and reserves in a tweet yesterday, showing that its cold wallet reserves are greater than customer deposits. 
For example, its customer XRP balance per the table sits at 64.1 million XRP, while its cold wallet reserve sits at 65.9 million XRP. Consequently, users are left wondering why they can not withdraw their holdings as the Japanese arm of the embattled crypto exchange says withdrawals in Yen remain suspended.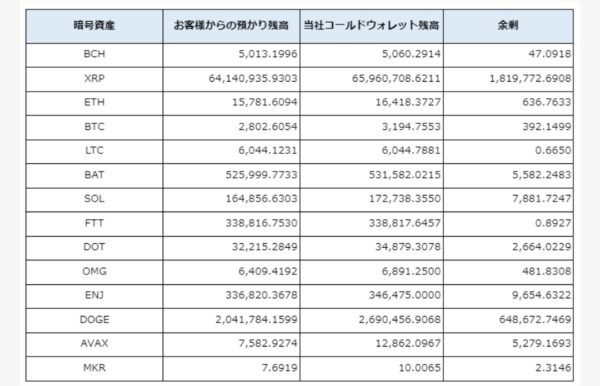 Unsurprisingly, users are worried about their deposits in light of FTX bankruptcy proceedings in the US. FTX Japan was among the over 130 affiliate companies in the FTX Group chapter 11 bankruptcy filing. As a result, customers have raised concerns over the possibility of the exchange using their funds to settle other debtors.
FTX Japan, on its part, continues to assert that its customers' funds are kept separate following Japanese law. Notably, Japanese regulators have also stated that they are working to ensure the preservation of the funds of Japanese customers, per a Reuters Japan report.
It bears mentioning that Japan's Financial Service Agency placed a business suspension on the exchange last Thursday, citing a suspension of withdrawals with no prior notice to customers while still onboarding new users and taking deposits. The moratorium prevents the crypto exchange from onboarding new users till December 10. Notably, authorities have also requested the company to submit a "business improvement plan" by November 16.
FTX announced on November 11 that, along with over 130 affiliates, it was filing for chapter 11 bankruptcy in the US. It came after a bank run on its global exchange FTX.com confirmed reports about shady financials at the company. The firm and its former CEO, Sam Bankman-Fried, are currently under investigation in the US and the Bahamas, where it incorporated its headquarters.