Binance CEO comments on SBF's secret loan to The Block news outlet.

Top cryptocurrency stakeholders have continued to react to reports that FTX founder Sam Bankman-Fried (SBF) secretly funded The Block for over a year.
The Crypto Basic reported over the weekend that Cardano founder Charles Hoskinson said the loan contributed to the anti-Cardano coverage the leading blockchain project has suffered over the years. 
CZ's Reaction
Commenting on SBF's loan to The Block, Binance CEO and founder Changpeng Zhao (CZ) said he now understands why the cryptocurrency news outlet was harsh on the exchange for no reason. CZ said he has always wondered what offense Binance committed to provoke The Block.  
"I have always wondered if we ever did something wrong to piss off The Block, as they were harsh on us for no apparent reason," CZ said.
I have always wondered if we ever did something wrong to piss off The Block, as they were harsh on us for no apparent reason. It all makes sense now.

— CZ 🔶 Binance (@cz_binance) December 9, 2022
The Block's False Report About Binance
Recall that The Block published a false report about Binance in 2019. The popular cryptocurrency news outlet reported in 2019 that Binance's Shanghai office was shut down following a police raid.
"According to sources, the cryptocurrency exchange's Shanghai office was recently visited by local officials. Sources said many of Binance's executives along with as many as 100 other employees worked at the office," The Block noted. 
Refuting the report, Binance CEO tweeted that the exchange did not have a Singapore office for two years.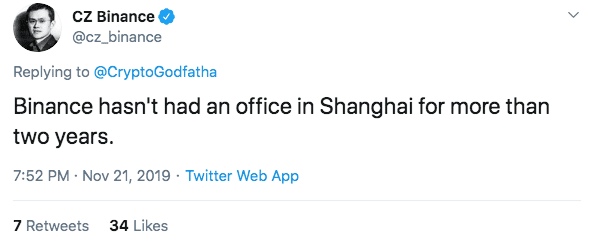 SBF's Secret Loan to The Block Revealed
Meanwhile, CZ's recent comment comes days after SBF's secret loan to The Block was brought to light. As reported, SBF loaned the crypto media outlet and its CEO, Michael McCaffrey, a total of $43 million for more than a year. The first loan, worth $12M, was used to fund The Block's move to buy out its investors.
The second loan, valued at around $15M, was used to finance the media outlet's daily operation. Furthermore, SBF gave McCaffrey a third loan worth $16M to enable him to acquire a private real estate property. After news of the loan went public, McCaffrey stepped down as The Block's CEO, and the media outlet Chief Revenue Officer Bobby Moran was appointed the new CEO.
The Block has faced major backlash since the loan went public, leading to people casting doubts over the news outlet's coverage of FTX, SBF, and other crypto projects.
dont even try dude — the block is notorious for making up unfair headlines about solana

doesnt bait as much engagement though ig pic.twitter.com/ivAbObT3My

— mert | Helius (🧱, ⚡) (@0xMert_) December 9, 2022
Commenting on the loan saga, Moran said:
"My immediate reaction was anger, frustration, and concern for all my colleagues. Everyone has worked incredibly hard over the years — since before I joined and since I've been here — to be fair, accurate, and independent in their coverage, and I thought this would call that into question. And that's frustrating."