Single Wallet Burns millions of Shiba Inu.
Shiba Inu's burn rate accelerates as Shiba Inu Community burned a whopping 27.29 Million SHIB in the past 24 hours. The major burn comes from the unknown wallet holding 313.44 Billion SHIB.
SHIB Army collectively sent a total of 27,291,662 (27.29M) SHIB to the "inferno" addresses via four separate transactions in the past 24 hours.
In the past 24 hours, there have been a total of 27,291,662 $SHIB tokens burned and 4 transactions. Visit https://t.co/t0eRMnyZel to view the overall total of #SHIB tokens burned, circulating supply, and more. #shibarmy

— Shibburn (@shibburn) December 24, 2022
Mysterious Wallet
The mysterious wallet holding 313.44 Billion SHIB burned the most Shiba Inu tokens in the past 24 hours. As per Etherscan.io, the mysterious wallet destroyed a whopping 24,091,662 (24.09B) SHIB in one significant transaction executed about 10 hours ago from press time.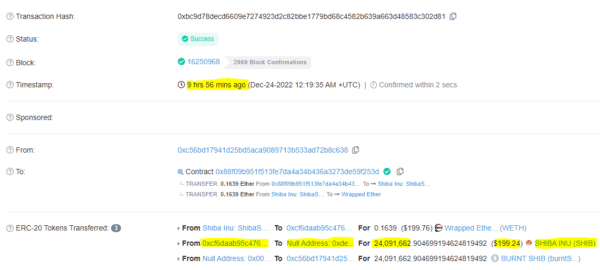 The mysterious wallet holds a humungous 313,443,508,626 (313.44B) SHIB, worth $2,592,177 ($2.59M).

This single massive burn transaction caused Shiba Inu's burn rate to surge by 642.63% over the last day.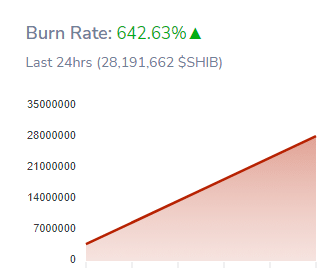 So far, the Community is thriving in reducing the maximum total supply of SHIB by 410,383,366,182,836 (410.38T) tokens. The current total supply of the world's second-biggest canine-themed cryptocurrency based on market capitalization currently stands at 589,616,633,817,163 (589.61T). A herculean 26,864,992,645,006 (26.86T) SHIB has been staked by the Community on ShibaSwap, whereas the current circulating supply stands at 562,751,641,172,157 (562.75T).
On the other hand, Binance U.S. is reported to increase its Shiba Inu position by $76 Million. The development comes on the heels of Binance's acquisition of a bankrupt crypto broker Voyager Digital.