Over 37.40 Million Shiba Inu (SHIB) burned in the past 24 hours, and 516.46 Million in the past 7 days.
Shiba Inu Community executed a total of twelve separate burn transactions and has taken out a whopping 37,400,646 (37.40M) SHIB from circulation forever in the past 24 hours.
In the past 24 hours, there have been a total of 37,400,646 $SHIB tokens burned and 12 transactions. Visit https://t.co/t0eRMnyZel to view the overall total of #SHIB tokens burned, circulating supply, and more. #shibarmy

— Shibburn (@shibburn) January 9, 2023
The most active Community-led burn project named 'SHIB Super Store' and the mysterious wallet added fuel to the fire by burning a total of 31,751,844 (31.75M) SHIB in two separate transactions, causing the overall SHIB Burn Rate to surge by 1395.89% over the last day.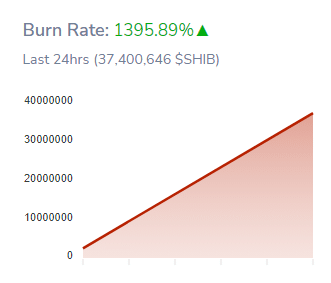 SHIB Super Store
SHIB Super Store reported a burn of 16.75M SHIB in one significant transaction using the official SHIB Burn Portal.
Burn and Reward!

16.7M Burn
17M Reward

Totaling about $305!

All ways to burn through me are located on https://t.co/d0goxr6sys

Earn rewards by joining the Discord (link on page) and earning the Superstore badge

The more participation, the bigger the burns and rewards pic.twitter.com/NJCJwe3vKm

— SHIB Super Store (@shib_superstore) January 9, 2023
The Mysterious Wallet
On the other hand, one of the mysterious wallets has incinerated a gigantic 14,999,999 (14.99M) SHIB in one robust transaction. As per Etherscan.io, the said massive burn transaction was executed about 2 hours ago from press time.

Weekly SHIB Burn:
Shibburn.com recently shared the weekly SHIB burn figure of the week. The first-ever dedicated SHIB burn tracker states that Shib Army has put a match to a gargantuan 516,462,035 (516.46M) SHIB through fifty-three separate transactions in the past seven days.
In the last 7 days, there have been a total of 516,462,035 $SHIB tokens burned and 53 transactions. #shibarmy

— Shibburn (@shibburn) January 8, 2023