The Conglomerate Capital, the project that was able to attract investments from notorious capitalists and blockchain backers last year, is launching its token presale event on January 16th with a goal of USD 2.5 million. Based on the founders´ experiences, this amount will be quickly fulfilled.
The world is fast changing and becoming more decentralized as it gets more digital. Decentralized Autonomous Organizations (DAOs), blockchain, DeFi, web 3.0, and cryptocurrencies are all growing in popularity.
How to employ all of these new technologies in a way that benefits society is now the problem.
In terms of finance and investing, these new technologies offer a rare opportunity to provide outstanding private market investment opportunities to retail investors around the world. Until now, these opportunities could only be accessed by Venture Capital (VC) and Private Equity (PE) funds.
TCC is the unique web3, BEP20 blockchain-based investment and funding platform, governed by a Decentralized Autonomous Organization (DAO), from which disruptive startups as well as SME businesses will raise capital, where investors will be able to access Venture Capital and Private Equity outstanding opportunities through the CONG token.
Additionally, the TCC and CONG ecosystem is the first and only to develop governance and investing features to lead and safeguard investors through the adoption and use of new market features and to rely on the knowledge of top-tier VC and PE industry executives to influence how people allocate their capital.
"At TCC, we seek not merely to democratize investment options, but to streamline investment process for investors and fundraising for Companies" says Diego Queirantes, Founder and responsible for deals structuring. "We are prepared to recreate VCs and Pesconstrained contexts" he continued. "Investors are more than welcome to go along for the voyage to reshape the way people invest their capital."
The creator of The Conglomerate Capital kept people in mind when developing the Company and its digital token, CONG. Yves Civolani, Founder & CEO and former private equity industry executive, came to the terrible realization that because the average person lacks basic financial knowledge, they are compelled to spend their life's work savings on substandard opportunities.
His parents have never had the opportunity to engage in VC and PE investments and earn lucrative returns as regular retail investors. The TCC concept was born out of his desire to make these opportunities accessible to regular people by assembling a conglomerate of companies run by global minnows.
"Before beginning to work on the project's development, a thorough examination of the crowdfunding and launchpads sectors was necessary," said Yves. "We wanted to comprehend concerns and issues from the viewpoints of all participants: investors, business owners/companies, and platforms."
Before founding the project, Yves worked for more than a decade for tier-1 global private equity funds. Therefore, throughout his career he learned by doing, what the problems are for startups and SME (Small and Medium Enterprises) to raise capital from either equity or debt securities.
With all of this in mind, TCC seeks to solve these issues by decentralizing the VC and PE infrastructures while also imposing a cycle of accountability and mutual interest alignment.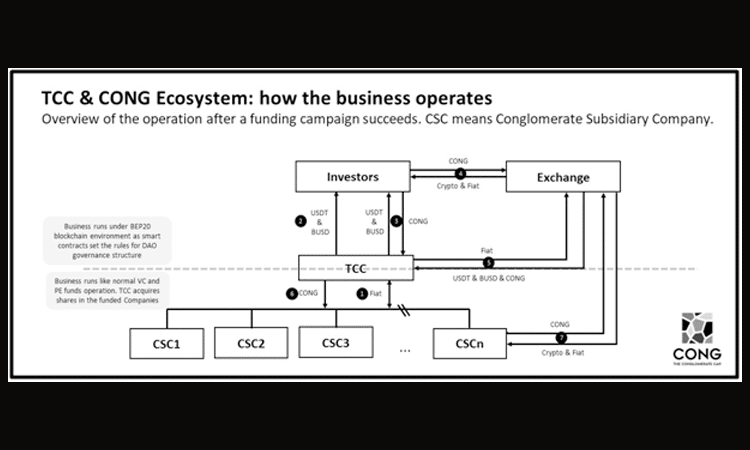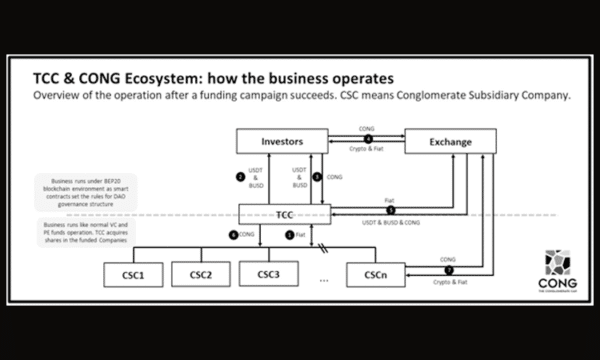 In order to give the CONG token value, based on the founding team experience in VC/PE/M&A environments, TCC intends to bring various industries features to cryptocurrency world through the use of leverage of DeFi and blockchain, under a DAO (Decentralised Autonomous Organization) governance structure. This is in line with the main attributes of the TCC & CONG ecosystem. Investors are encouraged to hold onto their tokens and use CONG as a form of asset storage.
To secure more investor consensus and a more democratic funding procedure, TCC offers many more advantages than the conventional paradigm, including zero-knowledge-proof authentication, decentralized data storage, trade agreements, and more.
The TCC white paper states that priority would be given to early investors when allocating investments. In return for CONG, the platform will receive USDT, BUSD and USDC. The onlytoken in the whole ecosystem, CONG, will finance all Businesses and Investors. Compared to other launchpads platforms, that is an important difference as they all face alignment problems due the fact that funded projects launch each their own tokens, competing against each other for investor´s capital allocation.
According to the roadmap, fiat and credit cards will also be accepted by TCC along through the project development. While CONG cannot be traded in a DEX or CEX, its price will rise if a deal opportunity passes through the platform because, based on the DAO mechanism, holders will decide what the token price will be for each funding campaign. This will set a buy pressure on the token.
The CONG presale will begin on January 16th, 2023 at 9:00 am GMT with a token price of USDT 0.0025. Therefore, it is best time to invest and join the ecosystem. Based on the hype already generated when the project was announced, the second presale round, which will start as soon as the first fulfils, will have CONG token price increased by 20%.
The management team at TCC has extensive expertise in the investment industry as whole, while the development team is made up of a group of blockchain and web developers, embracing the most potent and recent technical development in the cryptocurrency sector.
The TCC team has years of expertise in the sector and has raised money using a variety of mechanisms, including debt, equity, and convertible debt. The team has also completed many M&A transactions in recent years. By assisting in the review of funding applications, all this experience will work for the ecosystem´s benefit. Theyare all in agreement and aligned with the investors as the team is compensated by CONG.
For more information or inquiries, reach out to us through the contact links below:
Follow Us on Twitter and Facebook.
Disclaimer: This content is informational and should not be considered financial advice. The views expressed in this article may include the author's personal opinions and do not reflect The Crypto Basic's opinion. Readers are encouraged to do thorough research before making any investment decisions. The Crypto Basic is not responsible for any financial losses.
-Advertisement-