Massive Shiba Inu Token Burn: 23.68 million SHIB Removed from Circulation in 24 Hours, Led by a Mysterious Wallet
A large number of Shiba Inu (SHIB) tokens, over 23.68 million, were burned in the last 24 hours, with a single wallet responsible for burning 20 million of them.
Shiba Inu Community collectively transferred a total of 23,680,004 (23.68M) SHIB to the dead wallet through a series of four different transactions that occurred within the last 24 hours.
In the past 24 hours, there have been a total of 23,680,004 $SHIB tokens burned and 4 transactions. Visit https://t.co/t0eRMnyZel to view the overall total of #SHIB tokens burned, circulating supply, and more. #shibarmy

— Shibburn (@shibburn) January 12, 2023
Mysterious Wallet's Massive Shiba Inu Token Burn Causes Burn Rate to Increase by 38.31%:
One of the major burn transactions was conducted by a mysterious wallet holding 1,049,097,076 (1.04B) SHIB, worth $9,672. According to data from Etherscan.io, the said wallet carried out two large transactions about 15 hours ago, that removed a significant amount of 20 million SHIB from circulation permanently.


This significant burn caused the overall Shiba Inu burn rate to increase by 38.31% over the last day.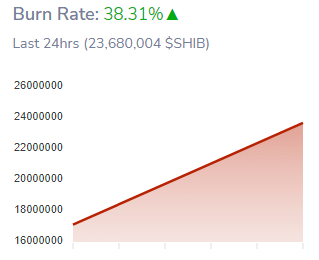 WazirX's Reserves: Shiba Inu Dominates Bitcoin and Ethereum
On the other hand, many cryptocurrency exchanges around the world continue to publish their "Proof of Reserves" (PoR) in the wake of the collapse of the exchange FTX. The latest development in this trend is that India's top cryptocurrency exchange, WazirX, has also released its PoR, which revealed that the exchange holds an equal amount of reserves to the liabilities, a ratio of 1:1.
As reported earlier by The Crypto Basic, WazirX, an Indian cryptocurrency exchange, has a large Proof of Reserves (PoR) worth $284.45 million. The report also states that among the cryptocurrencies held by the exchange, Shiba Inu (SHIB) is the top holding, making up 19% of the total reserves.
WazirX holds a significant amount of Shiba Inu (SHIB) tokens, specifically 6.09 trillion tokens, which are valued at around $54.2 million. Additionally, it is interesting to note that Shiba Inu is ranked as the top holding, followed by Ethereum and Bitcoin in terms of holding on the platform as per data shared by WazirX.
Follow Us on Twitter and Facebook.
Disclaimer: This content is informational and should not be considered financial advice. The views expressed in this article may include the author's personal opinions and do not reflect The Crypto Basic's opinion. Readers are encouraged to do thorough research before making any investment decisions. The Crypto Basic is not responsible for any financial losses.
-Advertisement-