Forbes Takes Down Article That Critiques SEC's Treatment of Ripple.
Unsurprisingly, it has sparked outrage within the XRP community.
Forbes has unexplainably taken down an article by Senior Forbes Contributor on Tech Policy, Dr. Roslyn Layton, which critiques the perceived unfair treatment of blockchain payments firm Ripple by the United States Securities and Exchange Commission.
The article titled "Why The SEC Treats Ripple And Ethereum Differently" is now blocked by a pop-up of an editor note that reads, "This page is no longer active."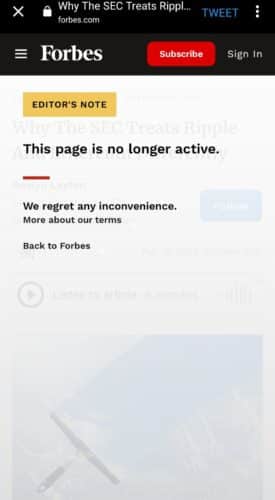 However, thanks to screenshots shared by members of the XRP community who disclosed that the article is still viewable in reader mode on selected browsers, The Crypto Basic was able to peruse its content.
— King Blue (@KingBlu01448246) February 16, 2023
In the article, Dr. Layton raises questions about why the SEC gives Ethereum a free pass through the controversial 2018 Bill Hinman speech, which the regulator claims to be sufficient guidance for the emerging industry but chooses to treat Ripple and XRP differently. The policy researcher who describes this as a potential "inconsistency" in regulations expresses that the rub could lie in the hotly contested Hinman documents.
The Hinman documents refer to emails and other materials related to the drafting of the controversial speech. Notably, at one point, the speech became the focus of the SEC case against Ripple, with the agency initially resisting Ripple's efforts to access the documents.
While the SEC finally handed over the documents to Ripple last October after previously resisting six court orders to do so, the agency is now seeking to keep the documents sealed per Omnibus motions filed last December. It again argued that these deliberations are subject to attorney-client privilege, adding that leaving them open to public scrutiny could negatively impact the ability of agency officials to deliberate policy in the future.
Notably, Dr. Layton, in her article, expressed the view that the SEC's argument is a tough sell considering that it says it serves as guidance for the nascent market. She argues that these documents could clarify if the free pass given to Ethereum were motivated by Hinman's alleged conflict of interest or if there is confusion among regulators that could justify confusion among industry participants and Ripple's fair notice defense. Consequently, as reported today, she has filed a motion requesting that the court unseal the documents.
Unsurprisingly, XRP community members have expressed outrage that Forbes appears to have taken down the article. Attorney John Deaton, whose firm had quoted the article reporting the Forbes contributor's filing, expressed shock, writing, "Wth."
— John E Deaton (@JohnEDeaton1) February 16, 2023
Meanwhile, Forbes has previously taken down an article by the Tech Policy contributor. However, it is worth noting that the author wanted to edit the piece in the previous instance.
At press time, Dr. Layton and Forbes are yet to respond to requests for comment. However, The Crypto Basic will update this report if it gets feedback.